How IoT sensors are helping to monitor and improve air pollution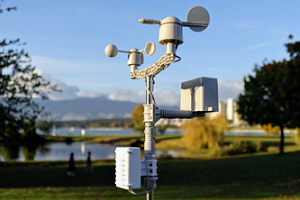 Photo by Jorge Ramirez on Unsplash
Recent advances in modern technology have greatly enhanced the standard and quality of life. The internet of things (IoT), data analytics, and artificial intelligence (AI) allow better and smarter access to public transportation and amplified production of manufactured goods.
However, these amenities are not free, as we continue to pay a heavy price for them.
Air pollution has risen exponentially in the last decades and is indeed a growing concern for all of us. Smog from traffic, household, aviation, and industrial plants greatly impacts the quality of air that we breathe, says Gabby Baglino, digital marketing specialist for Teguar with several years' experience in business marketing, writing, and content creation.
According to a recent report by the European Environment Agency (EEA), air quality is one of the most pressing issues that the Earth is facing right now. As per World Health Organization (WHO), nine out of ten people breathe air that exceeds WHO's pollutant guideline limits.
After monitoring some of the busiest urban areas, the data revealed that the impact of pollution is not only evident on the current generation but also on the generations that are yet to come.
Keeping these aspects in mind, IoT solutions have geared up not only to monitor but also to improve air pollution levels. This article intends to unfold the many ways through which IoT sensors are helping to monitor and improve air pollution.
Addressing the issue: air pollution
Understanding air pollution is one thing, but addressing it properly is a bit complicated. It might seem an impossible task to abandon the processes we rely regularly on such as heat and power generation, fuel combustion in vehicles, wastage sites, and industrial facilities. Yet these are some of the biggest contributors to air pollution.
It is therefore imperative to know precisely where and how bad air pollution has been affecting the population. In order to do that, it is extremely important to have accurate records of air quality over a defined time to determine whether efforts are paying off or not.
Data collection for air quality
Historically, data could only be collected manually. This process required numerous individuals with air monitoring equipment to repeatedly take several samples from different parts of the designated area.
It was not only extremely time-consuming and costly but also inaccurate due to human error.
That is where the internet of things comes in. Cities can gain prompt insight into different areas at different times through connected air quality IoT sensors. This saves time and money compared to manual collection and allows the user to track changes in air quality with ease.
Likewise, urban areas can employ smart cities technology like building sensors and mobile sensors to monitor and track air quality without any hassle.
Adding IoT sensors into the existing infrastructure
Polluted areas of the city can utilise onsite power sources by integrating air quality sensors into the existing infrastructure, such as street benches and lights.
One of the noteworthy aspects of these IoT sensors is that they can interconnect air quality readings across cities without worrying about human intervention. These sensors also provide the user with enough time to mitigate issues before they cause greater damage.
This setup has been tested in several countries. For instance, Barcelona has over 1,000 lamp posts with IoT air quality sensors along with WiFi routers. This enables city management to accumulate air quality data from different parts of the city autonomously.
U.S. cities like Los Angeles, Boulder, Miami, and Boston have introduced air quality sensors equipped with Soofa benches. Similar to their use in Spain, these "smart" benches form nodes for smart city connectivity.
This enables pedestrians to interact with smart city features while delivering real-time air quality data.
Air quality sensors minimise the carbon footprint
IoT-enabled air quality sensors do not completely discard the conventional monitoring technology, as these sensors also work alongside the traditional technology to amass larger and accurate granular data volumes.
These IoT-enabled air quality sensors monitor and alleviate air pollution by tracking:
Humidity

Atmospheric pressure

Altitude

Carbon dioxide

Temperature

Methane

Carbon monoxide

Ammonium
This gathered data holds paramount importance as it can be effectively utilised to minimise air pollution by identifying the target areas or sources of pollution and protecting citizens.
Ways to respond to this data include traffic diversions, road closures, avoidance, and vehicle halts. The portability of IoT sensors also allows them to be deployed into existing road infrastructure and be attached to public and private vehicles.
Industrial computers integrated into the industrial internet of things (IIoT) can leverage data from sensors to mitigate manufacturing issues that can contribute to environmental damage, like inspection or maintenance issues, before they become larger problems.
The future of IoT sensors in mitigating air pollution
IoT-enabled air quality sensors might take some time to completely replace fixed monitoring stations. But their ease of deployment and feature set provide far-reaching benefits, such as early alerts of highly polluted zones.
Based on this early indication, cities can effectively plan their infrastructure by addressing transportation and health concerns.
One of the advantages of IoT-enabled air quality sensors is that they can also be operated on low power wide area (LPWA) networks. Moreover, these sensors are capable of handling data coming from multiple sources. This feature enables the reduction of battery power during transmission as well as overall costs.
The future of IoT sensors in tackling air pollution looks bright. Several countries have already started taking innovative and concrete steps.
For instance, the Air Map Korea, a project initiated by South Korea, is underway. It includes air quality sensors deployed in phone booths, telephone poles, and offices parallel to base stations. These sensors monitor volatile organic compounds, fine dust, and humidity.
The University of Strathclyde Institute for Future Cities and the Center for Sensor and Imaging System (CENSIS) in Glasgow, Scotland, use a network of sensors to monitor particulate matter (PM), carbon monoxide (CO), humidity, temperature, pressure, Ozone (O3), nitric oxide (NO), and nitric dioxide (NO2) position.
In the U.S., Rice University in collaboration with Baylor College of Medicine has started manufacturing drones with embedded IoT sensors to monitor and detect harmful air pollutants.
Likewise, research analysts at Massachusetts Institute of Technology (MIT) have demonstrated how anonymised sensor data mobile phones can deliver customised air quality data.
Conclusion
Reducing air pollution is a serious challenge, and it must be addressed. IoT platforms coupled with smart sensors and universal mobile networks have the potential to offer a timely and cost-effective way to measure air pollution and improve air quality.
The data collected from these smart IoT sensors can then be fed into artificial intelligence systems. These systems with accurate real-time data can help communities better understand the significance of air quality, fluctuations, and how to undo the damage that's already been done.
The author is Gabby Baglino, a digital marketing specialist for Teguar, with several years' experience in business marketing, writing, and content creation.
Comment on this article below or via Twitter @IoTGN