Freshwave, Midland Metropolitan University Hospital partner to build mobile network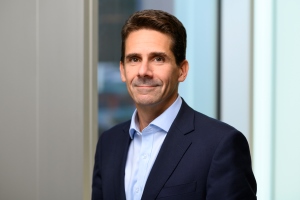 Simon Frumkin of Freshwave
Freshwave are delighted to be working with Sandwell and West Birmingham NHS Trust to bring indoor mobile coverage for all four mobile network operators to Midland Metropolitan University Hospital. With the NHS Long Term Plan's ambitions to upgrade technology and digitally enabled care across the health service, having world class mobile coverage for use by patients and medical staff is crucial.
Connectivity infrastructure-as-a-service provider Freshwave are designing, deploying and managing the network which will provide premium voice and high-speed data for staff, patients and visitors to the hospital. The distributed antenna system will provide 2G, 3G and 4G assured connectivity and have an upgrade path to 5G. As part of the 24/7 managed service, Freshwave will be providing monitoring and engineering support.
Midland Metropolitan University Hospital is currently under construction in Smethwick and will be the Trust's acute healthcare facility when complete in 2024. 
The brand-new state-of-the-art hospital will house the emergency department, maternity suite, and children's and adult acute inpatient services for more than half a million people and will have around 700 beds. Freshwave's neutral host network will span 950,000 sq ft and 10 floors across the hospital.
Martin Sadler, executive director of IT and digital at Sandwell and West Birmingham NHS Trust, says, "Because hospitals are complicated buildings, getting a mobile signal when inside them can be difficult. The work we are doing with Freshwave will help staff, patients and visitors stay connected and will support patient care." 
Simon Frumkin, CEO at Freshwave, says, "We're delighted to be bringing Midland Metropolitan University Hospital the assured connectivity it needs and deserves. Connectivity is key to delivering excellent patient care both today and as technologies develop in the future, especially given the many pressures the health service is facing. We're pleased to be working closely with the team there to ensure that the connectivity delivers long term value to the hospital and communities it serves."
Comment on this article below or via Twitter @IoTGN