Sharper Shape closes $18.0mn series b funding round to accelerate living digital twin technology for utilities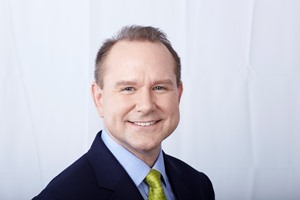 Chris Beaufait of Sharper Shape
San Jose, CA., USA. 11 May 2022 – Sharper Shape Group, Inc., a specialist in powerline inspection solutions for the utility industry has completed a US$18.0 million (17.28 million) Series B round, with participation from the Michael Harvey Trust as lead investor.
The investment will support Sharper Shape's ambition to enhance its Shaper CORE Living Digital Twin (LDT) offering, delivering improved safety, efficiency, accuracy and operational cost saving to utilities through enhanced digital inspection workflow decision making and management. The funding will go toward advancing technological development of the solution to further the capabilities of the platform as well as to enable additional deployments across the United States and Europe.
The LDT technology incorporates real-time updates and asset change detection into a traditional 3D digital twin model, integrating aerial, ground and third-party asset data into a single, powerful artificial intelligence (AI) and machine learning (ML) driven software platform. In practice, this means that as the surrounding environment and the utilities' assets change, the LDT is updated to provide transparency and allow collaboration between distributed and centralised teams to evaluate network risks, identify potential issues, and prioritise vegetation maintenance and other actions to meet operational and regulatory requirements.
The Series B funding is the latest chapter in Sharper Shape's growth, with the trailblasing technology company also continuing to win numerous multi-million dollar contracts with Tier 1 utilities, building upon its nine-year history of serving utility customers. With strong teams in Finland and in the United States, Sharper Shape plans to open a new office this year in Salt Lake City, Utah, to further support customers' deployment and use of its solutions.
Chris Beaufait, CEO of Sharper Shape, comments on the successful funding round, "Transmission & Distribution infrastructure today is grappling with aging, both in terms of the workforce and infrastructure. If utilities are to protect their assets while delivering power reliably, safely and sustainably to communities in the face of increasing challenges such as climate change, wildfires, greater renewable power generation and increasing electrical loads, there is little to no choice but to drive a step-change in utilities' inspection, risk, operations and maintenance processes, and to leverage technologies that rely more on data based asset intelligence and automation. Sharper Shape's LDT technology precisely supports this significant industry transition. As such, we are delighted to have attracted this capital to support our customers and technical development efforts to provide the solution for intelligent asset management."
"As a business owner and a former California resident, I am delighted to be part of Sharper Shape's Series B round," comments Michael Harvey of the Michael Harvey Trust. "I see a tremendous need not just in California but globally where Sharper Shape's software and asset intelligence solutions are key to dealing with critical failure points that represent enterprise-wide risks and operational challenges to not just power utilities, but also to other asset managers & operators alike."
Andrej Srsen, chairman of the board for Sharper Shape, and CEO of Straightforward Capital adds "We discovered Sharper Shape in 2016 and quickly understood that they are pushing the frontiers of electric utility digitalisation. The following few years have been focused on developing the Sharper CORE digital twin platform that makes the owners of the grids fully aware of the conditions of their assets and helps them to mitigate the risks related to the grid and beyond, such as wildfire risk and other climate change impacts. The Series B investment builds upon the incredible work done by the team to position the company for the next phase in our growth journey."
Comment on this article below or via Twitter @IoTGN