Virtual healthcare solutions provider partners with Florida's Smart Meter Corp to provide 'high quality data capture' from patients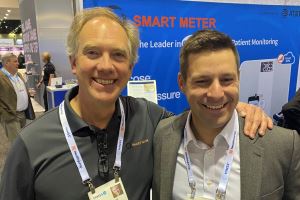 From left Casey Pittock & Tom Smith
London, UK. 4 April, 2022 – EMV Capital reports that its portfolio company Wanda Health Inc., a telehealth company that provides a virtual care platform for patients with heart failure and other chronic diseases, has partnered with Florida-based Smart Meter Corporation, a cellular-enabled remote monitoring devices provider. Together they aim to ensure reliable, high quality data capture from patients, regardless of access to smart devices and internet connectivity.
The partnership will reportedly provide intelligent virtual care, device logistics, timely alert management and patient engagement services to complement the extensive collection of care management capabilities that comprise the Wanda Health intelligent virtual care platform. Designed specifically for healthcare providers in North America and Europe, the partnership will give optimal data from cellular-connected devices no matter where they are located.
The growth in the digitally-connected healthcare market has exploded since the beginning of the Covid-19 pandemic, and the type of solutions and services offered by Wanda Health are seeing increased demand on all fronts. Indeed, the global connected healthcare market size is projected to grow from approximately US$51.59 billion (€47.00 billion) in 2021 to approximately US$297.95 billion (€271.46 billion) in 2028*, with market demand exploding across all regions, particularly in North America, Europe, Asia Pacific and elsewhere.
EMV Capital, a fully-owned subsidiary of NetScientific PLC, invested in Wanda Health Inc in 2019 as part of a turnaround. Starting as a UCLA spin-out, the company's platform warns health-care practitioners and patients of potential adverse medical incidents, thus helping identify urgent medical care and treatment needs, and contributing to reduced re-admissions and emergency department visits. This new partnership will boost the company's offering and provide increased service to those located in remote areas where connectivity can falter.
Commenting on the partnership, Casey Pittock, CEO for Smart Meter says, "Customers demand accuracy and precision in both the quality of the readings and the transmission of that data. The combination of Smart Meter devices and the Wanda Health RPM solution will result in delivering the timely information that will improve care and facilitate billing for remote patient monitoring services."
Tom Smith, CEO for Wanda Health comments, "Our partnership with Smart Meter will continue to enhance our intelligent virtual care platform, by increasing access to not only quality but quantity of ingested patient data. This will help us to reach new patient populations and enhance our programme offerings to healthcare providers."
Dr Ilian Iliev, managing director for EMV Capital and CEO for NetScientific PLC notes, "As part of our trans-Atlantic thesis, our investment in Wanda has helped the company to focus on scaling its connected health offering in the US healthcare market. During COVID this market saw an explosion of demand as digitisation of healthcare services took off. We are pleased to see the results of the team's work over the last few years, as Wanda moves towards accelerated commercialisation in the US, while exploring growth opportunities in the UK and Europe"
Comment on this article below or via Twitter @IoTGN