Parkki and Actility join forces to revolutionise parking space management using LoRaWAN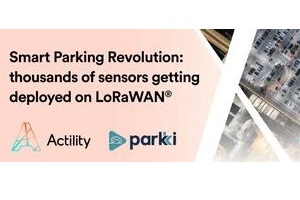 Parkki, a French solution provider for Smart Parking for shopping malls, cities and businesses, has partnered up with Actility, global provider of IoT connectivity solutions, and currently deploys thousands of LoRaWAN sensors using Actility's ThingPark Enterprise platform, allowing to determine the number of places left, to get directions to a free parking place and more.
The number of parking spaces of a supermarket usually varies between 700 and 3000 for the biggest ones. Up to date, Parkki has already deployed 6000 Smart Parking Sensors on various instances. For example, for the Super U supermarket in Saint Jean de Monts in France, Parkki is currently installing 4 outdoor gateways and 400 Bosch Smart Parking sensors connected to LoRaWAN. A new deployment is plan on the Reunion Island with 700 sensors.
The 360° vision of connected mobility
Parkki is the multi-technology intelligent and connected parking platform on the market. It is a turnkey solution that connects all parking spaces, supervises them in real time and redistributes information to users. For all car park managers and motorists, it is the reference tool to improve the parking experience. Parkki is the tool compatible with all smart-parking devices, barriers, radar sensors on lighting, video analysis and ground sensors. It is a real time supervision solution for all parking spaces that allows:
Real-time knowledge of free parking spaces
Data streaming to control parking spaces
Continuous improvement adapted to user behaviour.
Driver guidance (mobile application and staking)
Parkki's solutions are particularly adapted to the retail sector. Already present in many retail chains, Parkki has been serving for several years the strategic challenge of establishing a link between the outdoors activity and the commercial activity of the retail centres.
By analysing key performance indicators, Parkki responds jointly and thanks to a single platform to the needs of business, data and customer experience. In other words, Parkki allows a strong generation of value by interpreting the Outdoor KPIs (vehicle flows, availability of parking spaces, alerts, car parking, etc.) and the commercial activities thanks to the Indoor key KPIs (people flows, people count, turnover, customer path, frequency of visit, etc.).
Thanks to its 360° platform of customer mobility, Parkki allows retailers to have a unified vision and management, as well as a transverse enrichment of the customer experience and thus to integrate the new consumption modes.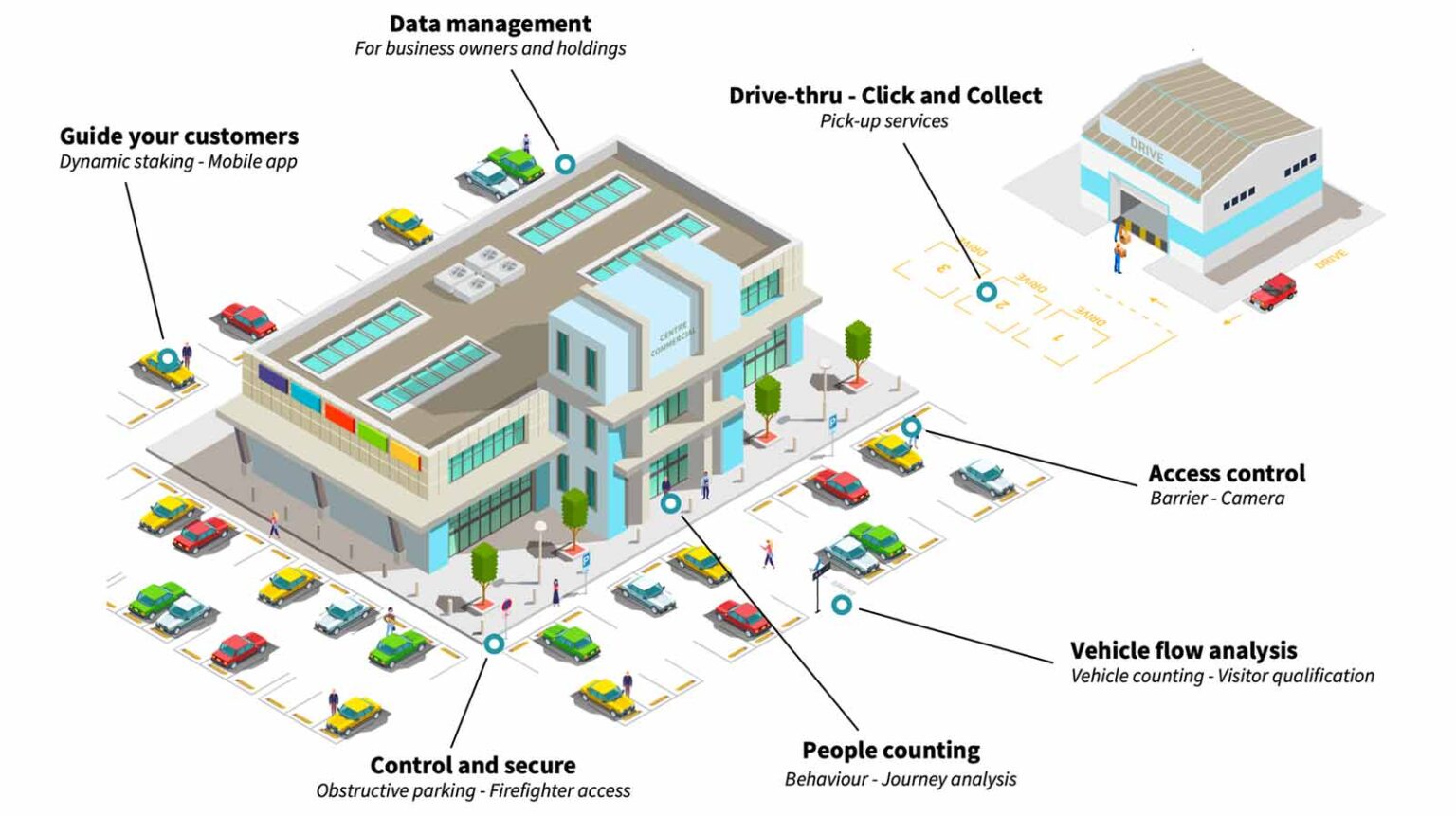 Agnostic multi-technology approach to smart parking
Thanks to its multi-technology vision, the Parkki platform can be interfaced with all sensors technologies and can thus easily group together all the strategic mobility services required by today's retail parks.
Specific use cases require Wi-Fi, 4G, ZigBee communication technologies, but LoRaWAN in particularly is an efficient way to communicate data for sensors installed on the ground. It is reliable and low-cost, and customers appreciate the open system and not proprietary aspect of this technology.
Using smart parking sensors with LoRaWAN and well-connected control systems allow drivers to easily find free parking spots, avoid congestion and reduce fuel consumption and pollution. And this IoT solution can be implemented with a fast infrastructure setup without transforming the entire area into a construction site.
LoRa-enabled parking sensors can be deployed throughout urban areas, enabling parking operators to capture and analyse occupancy data in real-time. Connected road signs and online applications can display information about available parking spots. Actility provides the ideal IoT connectivity platform for cities, public and private parking operators.
LoRaWAN® is widely used wireless protocol that allows battery-operated devices to communicate with IoT applications via long-range, wireless connections, allowing longer battery life, thus lowering the cost of device ownership. LoRaWAN® is especially useful in large-scale deployments because of its availability, cost, and reach, due to its use of unlicensed spectrum, the availability of standardised, low-cost modules with long battery life.
Actility, global provider in Low-Power Wide-Area Networks (LPWAN) industrial-grade connectivity solutions, provides the LoRaWAN® network server and a highly reliable and advanced IoT platform for network management, ThingPark™, already powering the vast majority (over 50) of public nationwide LoRaWAN® deployments and hundreds of companies worldwide.
"With Actility, we established a strong win-win relationship. Now that we are expanding our solutions at industrial scale, we found a solid partner to go global, as Actility platform provides extended IoT expertise and 24/7 support." says Pierre-Julien Harbonnier, CEO of Parkki.
"We are happy to partner with such an innovative player as Parkki and to address this rapidly growing vertical together. Our common goal is to provide a scalable IoT Solution and achieve massive industrial development on the global market." adds David Royet, sales director South Europe & MEA at Actility.
"We are thrilled to work with two innovative partners, Actility and Parkki. Thanks to their know-how, parking management in real-time is easy with the Bosch Parking Lot Sensor! Our sensor is certified by the Lora Alliance and works perfectly with Actility's LoRaWan Network Server. Parkki brings the data management platform and its algorithms. It guides drivers to available spots thanks to mobile application and staking. Together we can support communities in reducing CO2 exposure by reducing parking search time!" stated Franck Cazenave, smart cities & real estate director at Bosch.
Comment on this article below or via Twitter @IoTGN