Killing latency with TSN – The future of IIoT networking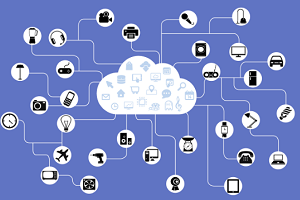 Latency is rarely the friend of any network, but the multiple devices and demands of IIoT deployments make it especially undesirable. In some cases low latency isn't just a 'nice to have' such as in industrial and automotive applications where even an infrequent delay could have catastrophic consequences. Enter time-sensitive networking (TSN), says Martin Keenan, technical director at Avnet Abacus.
TSN – the IEEE standards
Time-sensitive networking (TSN) might not be a familiar term for wireless industry players, but Ethernet experts will have a much longer association with the technology and concepts behind it. Time-Sensitive Networking (TSN) is a set of standards specified by IEEE 802, and has it's own Time-Sensitive Networking (TSN) Task Group. The aim of TSN is to guarantee packet transport with bounded latency, low packet delay variation, and low packet loss.
While these elements are desirable on any network, the TSN standards specifically target applications where latency is substantially undesirable. In particular, aerospace onboard networks, automotive in vehicle Ethernet networks, and industrial automation the latter having a key focus on creating the ability to deploy converged networks that simultaneously support operations technology traffic and other traffic.
The rapidly maturing TSN market is gaining real traction a recent report from Global Market Insights predicted that the market exceeded $200m (€165.84m) in 2019 and is expected to have a compound annual growth rate (CAGR) of more than 30% between 2020 and 2026, taking the market size to more than $1bn (€0.83bn) by the end of that period.
Perhaps unsurprisingly, much of this growth is down to those specific vertical use cases "North America's time-sensitive networking market dominated the global revenue share with over 50% in 2019 impelled by advent of Industry 4.0", notes the report, while "the automotive application segment in the Netherlands time-sensitive networking market is expected to witness over 20% growth through 2026 owing to rising adoption of Advanced Driver Assistance Systems (ADAS)." The increasing focus on autonomous or near-autonomous vehicles is also spurring interest, an area where unexpected latency would clearly have serious repercussions.
TSN and URLLC
With Ethernet TSN garnering so much interest in IIoT and automotive circles, it was inevitable that the 5G standards bodies and engineers would take note. Indeed, it's no exaggeration to say that TSN will potentially transform the future of wireless networks, as it achieves very accurate time synchronization across the network.
This principle has become known as ultra-reliable low-latency communication, or URLLC, and is a key component of the 5G standard's release 16, or 'NR release 16' as it is known by the 3GPP. NR release 16 was completed in late summer 2020, and represents 'Phase 2' of the 5G standard, offering a host of enhancements, not least URLLC. 
Overview of the TSN/URLLC integration:

There are many small improvements in URLLC that overall add up to a substantial enhancement, including the ability of high-priority uplink (UL) transmissions to cancel lower-priority UL transmissions, as well as frequent control-channel monitoring to reduce latency. In addition, for both UL configured grant and inter-UE downlink (DL) semi-persistent scheduling, multiple configurations can be active simultaneously to support multiple services. 
IPN+URLLC= IIoT success?
While URLLC alone delivers substantial opportunities for enterprises deploying future IIoT implementations, 5G NR release 16 represents a perfect storm for both existing and new enterprise IIoT players. 
In addition to delivering the crucial ultra-reliable low-latency communication, release 16 also enables enterprises the potential to operate private 5G networks – or Industrial Private Networks (IPNs) – in unlicensed spectrum (NR-U), creating a huge growth market for IPN technology. Indeed, a recent IDC report predicts that the revenue attributable to the sales of private LTE/5G infrastructure will grow from $945m (€783.62m) in 2019 to an estimated $5.7bn (€4.73bn) in 2024 with a five-year compound annual growth rate (CAGR) of 43.4% – this includes spend on RAN, core, and transport infrastructure.
This combination is no accident, of course, but in almost all avenues of Industry 4.0, the combination of large bandwidth, real-time applications and the opportunity to operate a larger number of participants – all with high security will be a game changer.
Technologies such as Edge AI, en-masse virtualisation and genuinely reliable real-time communication will become substantially more practical for enterprises to deploy in real-world situations, rather than tightly-controlled pilot projects and limited proof-of-concepts. 
5G IPNs are set to deliver secure, real-time networks to operate and monitor robots, AGVs, machines in a very low-latency industrial network that will drive IIoT adoption forward at a furious pace welcome to the future, it's much closer than you think…
The author is Martin Keenan, technical director at Avnet Abacus.
About the author
Martin Keenan is the technical director at Avnet Abacus, which assists and informs design engineers in the latest technological challenges, including designing for Industry 4.0 and Industrial IoT manufacturing.
Comment on this article below or via Twitter @IoTGN