IoT integration takes centre stage in the smart homes market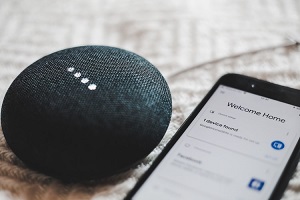 As the use of the Internet of Things (IoT) picks up pace, the adoption of smart home devices is steadily increasing. By 2023, the average UK smart home will have 50 connected devices, according to Marc Allera, the CEO of BT's consumer division.
As many consider what lies ahead for connected homes, one topic that is continuously popping up on the IoT radar is true integration across smart home devices. Now, with the help of emerging IoT advances, the industry is moving towards a truly seamless and connected experience in the home, says Jocelyn Brown, freelance technology writer.
Samsung's smartThings platform aims to give consumers more choice
One common complaint of IoT technology in the home is the lack of compatibility. By 2022, it is estimated that the U.S. will have 63 million connected homes. Currently, 65% of Americans have at least one smart home device in their homes. As more of the country embraces connected homes, many are realising that their smart home devices may not all be compatible with each other. With several large players in the smart home device market and several individual platforms, it can quickly get complicated if you are using smart home appliances from different platforms.
In response, Samsung has introduced the SmartThings Platform, which aims to offer customers cross-platform connectivity amongst Apple Home Kit, Google Assistant, and Amazon Alexa. The technology puts integration at its core by amalgamating Samsung's individual IoT platforms. This allows consumers to have a fully immersive connected home experience, and provides flexibility for customers in their homes. Most integrated platforms like Samsung's SmartThings are also emphasising certain smart devices like those included in the smart thermostat market.
The sale of smart home heating, air conditioning, and smart home overhead ventilation devices has been a leading driver in the smart home devices market over the years. Additionally, one of the criteria for consumers when choosing a smart home ceiling fan or thermostat is its connectivity and integration capabilities supporting the decision to prioritise those on Apple HomeKit or Amazon Alexa.
Integration goes a step further with Masonite's smart door
Another step forward for smart home connectivity comes with Masonite's announcement of connected home doors. The company has signed on with Yale and Ring, two of the smart home security companies. Yale currently offers smart home alarms that allow homeowners to secure or unlock their homes using a mobile app. Ring, a smart home company owned by Amazon, works on both iOS and Android platforms. It is a smart home security system that includes cameras, video doorbells, and customisable motion sensors.
Now, Masonite has partnered with the two companies to offer power and Wi-Fi connected front doors. Other expected features include door lighting and motion sensors. It is also expected that Masonite will expand its integration capabilities to other smart home technology companies.
More providers tap into the IoT integration platform business
IoT integration provider, Tony Harris Integration provider launched their smart home management in a box solution earlier this year. According to the company, they recognised the growing occurrence that smart homes are now powered by a mix of devices from multiple brands.
With each device having its specific control and management app, controlling a smart home can easily become time-consuming. However, with the introduction of a universal remote smart home control technology, like Harris' IoT Glue, multitasking becomes more of a possibility for today's homeowners.
As the market continues to embrace connectivity in the home and adopt more smart devices in their daily lives, new drawbacks are coming to light like the gap in seamless integration between competing devices or brands. If consumers are to have a truly seamless connected home experience, this gap must be addressed.
The good news is that more IoT companies are recognising this need as well. Connected smart doors, cross-functional smart platforms, and universal smart device management platforms are just the start, but based on these solutions, the future of smart home integration using IoT looks bright.
The author is Jocelyn Brown, freelance technology writer.
Comment on this article below or via Twitter @IoTGN