How businesses can adapt their HR strategies to the COVID landscape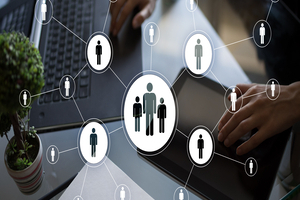 From Zooming clients, to organising remote gatherings and managing teams exclusively via digital channels, the COVID-19 pandemic has forced businesses to embrace digital platforms.
As Nikolas Kairinos, founder and CEO of Soffos reports, social distancing measures led many businesses to shutter their office space, tech has become an essential component for even the most hesitant of organisations, enabling entire workforces to do their jobs from their kitchen tables.
Many employees have embraced the changes with open arms so much so that the prospect of continuing with working from home practices, even long after the pandemic has ceased, has been a popular topic of discussion. With many finding that they are able to better manage their work-life balance, or improve their productivity levels when working from home, the advantages of remote working have been enjoyed by business leaders and employees alike.
In the future, it is likely that many organisations will adopt a blended model of remote and office working as a result. Yet one glaring issue remains.
Staff need support
Although working from home has largely been a success for most organisations, for quite some time now, this combination of remote and office working has come at the expense of staff development. Understandably, the virus has complicated the matter of employee planning, management, performance and training strategies. Especially at the beginning of the pandemic, when workers were sent to work from their homes for an indefinite period, Human Resources (HR) and management staff might have put their plans on hold in the hopes that office working would soon return.
But now, with restrictions set to continue into the new year, business leaders must ensure that their staff receive the support that they need going forward. So, how can we go about adapting HR strategies to mitigate the impact of COVID-19, and in turn, better support this new cohort of remote workers?
Putting digital solutions to good use
Just as businesses have been quick to embrace digital solutions to enable new home-working practices, they should now also turn their attention to adopting new tech to deliver on their HR strategies. With businesses initially shifting into survival mode, COVID-19 may have temporarily halted progress in these areas. But now that many have overcome the initial shock and acclimatised to new ways of working, business leaders will naturally be returning to the topic of workforce development.
With this in mind, it is encouraging to note that the majority of companies are becoming more eager to undergo digital transformations. Indeed, a significant 54% of UK firms have become more open to adopting new technology since the onset of the pandemic. Clearly, companies are ramping up their tech investments to bolster their newly digitised workforces.
As they do so, I would encourage HR leaders to put people-first technologies at the forefront of their long-term digital transformation strategies. With collaboration and connectivity likely to remain key trends in the months and years to come, managers would do well to reconsider how suited their current software is to their organisation's needs. This necessarily entails making decisions about what obstacles employees have encountered with existing platforms, and where improvements can be made perhaps shifting to new solutions if necessary.
At the same time, prioritising data analytics to assess employee performance should be an area of renewed focus for businesses looking to enhance the development of their staff. While the perception is often that acquiring these insights can be obtrusive or indiscreet, this needn't be the case. If business leaders leverage the right technology whether this is through virtual questionnaires, online projects and courses, or Zoom catch-ups it is possible to determine how employees are coping with changes.
Utilising these insights as a starting point, companies should then ensure that there is ample scope for employees to upskill and gain new proficiencies. And there is no better time than the present to explore how digital platforms can aid this process, by offering valuable development opportunities, as workers adapt to their new remote working routines.
Re-visiting soft skills
It has now become something of an age-old fear that in the future, employees across all industries could find themselves displaced from the workforce by robots. This is not strictly the case; advances in automation will simply help to lessen the load for businesses overburdened with repetitive, resource-intensive tasks, allowing them to allocate their reserves elsewhere.
However, with 45% of organisations looking to implement artificial intelligence (AI) to strengthen their operations in the next 12 months, business leaders should now be re-examining which areas of employee development should be a prime focus.
In particular, as the workplace evolves in the coming months and years and automation takes on much of the grunt work, I expect that professionals will become increasingly sought-after for their soft skills. Employees will be valued more than ever for their inherently human qualities everything from their communication skills, down to their general attitude and knack for leadership effectively, skills that AI cannot yet imitate.
HR leaders should take note, and it is critical that businesses focus on developing these skillsets within future learning and development (L&D) frameworks. This will ensure that their employees are well-adjusted and fully prepared to succeed in both the "new normal", and the increasingly automated workforce.
Post-pandemic recovery
While COVID-19 has posed a myriad of issues for organisations, thankfully, it has also come at a time when businesses are well-equipped to adjust to significant changes both in terms of their day-to-day operations, and their capacity to push forward with development opportunities.
That said, the workplace is changing fast, and business leaders should be quick to deploy digital solutions to support a new generation of home workers. Not only will this help to ensure their post-pandemic recovery, but it will also support their efficiency in a newly automated future.
The author is Nikolas Kairinos, chief executive officer and founder of Soffos
About the author
The author Nikolas Kairinos is the chief executive officer and founder of Soffos, the world's first AI-powered KnowledgeBot. He also founded Fountech.ai, a company which is driving innovation in the AI sector and helping consumers, businesses and governments understand how this technology is making the world a better place.
Comment on this article below or via Twitter @IoTGN