Real reasons why mobile applications are so important for your business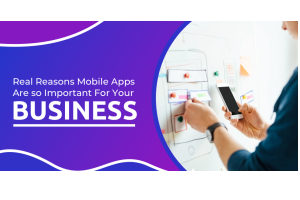 Innovations in the field of mobile application are making digital programs available for use on cell phones, personal digital assistants, smart watches, and tablets, says Tarun Nagar, the founder & CEO of Dev Technosys.
Mobile applications are produced for different operating systems, for example, Android, iOS, and Windows. More than 80% of individuals using smart phones scan for items and services available online. Out of this, around 27% look for mobile applications associated with the items or services required.
Intended for use in all-purpose
These days, mobile application advancement has been utilised to create mobile applications for several purposes that include selling of products and offering certain services.
Now that technology and digital advancements have taken the world by storm, it is important to use this technology wisely and take your own business to the next level.
Mobile applications at a private company stance are uncommon as yet, and hence this is the place you can take a significant jump in front of your rivals. It is the time to offer a versatile application to your users.
They'll be amazed by your ground-breaking approach and it will also ensure your stay ahead in the curve!
Applications on the go
If you think portable applications are exclusively for brands with prominent names, you are incorrect. Most of the organisations are following the mobile application trend while understanding that a versatile business enterprise needs something more than a well-disposed site which is dynamic as well as accessible to the users.
Nowadays, numerous private companies you associate within your regular day to day existence have their dedicated mobile application — whether a corner bistro or a luxurious spa downtown.
These organisations are on top of their game and enjoy an exclusive preference from the audience because of the ease of access that their mobile application provides.
Why are mobile applications gaining popularity in the realm of Business?
Currently, the number of smartphone users remain at more than 1 billion all around the world.
Let us look at some of the most important reasons why each entrepreneur must have a mobile application for his or her Business.
Exposure to business
Great marketing tool
Creates a rise in sales
Better customer support
Creating brand awareness
Improving customer accessibility
Creating a heavy database with vital information
Sustaining a loyal customer base
Exposure to business
Millennial smartphone users invest more energy on the web. A survey examination shows that advanced cell phone clients spend at least 162 minutes day by day on two or three applications on their smartphones.
So, having an application can help increase business visibility and advance the development of Business. This is because individuals look at pictures; they tend to remember it in a better manner.
Great marketing tool
Mobile applications can be maximised as a showcasing instrument to attract the target clients.
It is not necessary for entrepreneurs to print massive leaflets just for the sole purpose of connecting with new clients as mobile applications can give data, booking structures, accounts, newsfeed, and other significant advertising apparatuses right into their mobile screens. Clients can be offered exclusive deals by utilising message pop-ups.
Creates a rise in sales
Mobile applications have been utilised to expand deals of products and ventures and make more benefits.
Domino's Pizza is the most appropriate example. In the United Kingdom, they have managed to expand their deals by 28 percent after the arrival of its mobile application.
More than half of the requests online are done on mobile apps. Most mobile applications are coordinated with Facebook, Twitter, Instagram, and other social media channels for more extensive promoting inclusion.
Better customer support
Mobile applications offer the buyers a high-quality client care experience which is accessible all the time, nonstop, at no additional expense.
Moreover, it is a quicker and more efficient alternative to the traditional customer support provisions.
Creating brand awareness
With a feature-rich mobile application, you can look forward to creating brand awareness by making use of major highlights that the end users are searching for.
The utilisation of in-application offers can help in retaining a customer. The presence of mobile application for your business can help in delivering value to your brand image as well as its mindfulness.
Improving customer accessibility
Mobile application development company can help in delivering improved business accessibility. It is important to note that more than a billion of the world's population makes use of smartphones for online accessibility.
With the help of an application, a business owner can send details as well as offers to the respective customers simultaneously.
While there are many positive aspects to this, it doesn't change the way that every customer needs to open, scroll, and scan their gadget for the applications they're searching for.
Being "in the way" can be a bit of leeway to your organisation, as our psyche unknowingly records each picture and text.
Even a well-rounded icon for your mobile application it runs over gets noticed for that matter.
Creating a heavy database with vital information
Organisations can utilise mobile applications to generate a hotspot for data about customer's inclinations and personal conduct standards to empower them to settle on significant choices dependent on the aggregated information. This has extensive potential for boosting deals and improving the user experience.
Sustaining a loyal customer base
Last, but not least, the most significant motivation behind why you must consider building your mobile application is to achieve customer loyalty.
With all the demand out there — billboards, blazing signs, paper promotions, flyers, coupons, websites, Facebook advertisements, and email showcasing, it is an ideal opportunity to offer a valuable and true association with your customers and making them a steadfast admirer of your services or products.
A mobile application may be a method of remaining nearer to your customers, just a touch away.
Conclusion
Mobile applications can be utilised for developing user reliability since it permits organisations to communicate with clients through In-application buys, advertisements, advancements, and notices sent to clients' telephone through mobile applications.
Mobile application advancement has been procured to make mobile applications for different organisations and brands.
A versatile application is a significant piece of the organisation, as it can enable a business to become independent and generate more users in the least possible time.
The author is Tarun Nagar, the founder & CEO of Dev Technosys.
About the author
The author is Tarun Nagar, the founder & CEO of Dev Technosys, a global web development company. With 10+ years of experience of enabling start-ups which are now global leaders with creative solutions, he is differentiated by out-of-the-box IT solutions throughout the domain.
Comment on this article below or via Twitter @IoTGN