Services firm ISS partners with Haltian to build smart facilities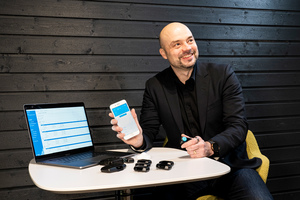 Pasi Leipala of Haltian
Facility services company ISS requires an Internet of Things (IoT) platform that is secure, reliable, and easily scaled and modified to customers' needs. Finnish IoT and product development company Haltian has already been the main provider of IoT solutions for ISS Finland, and now the co-operation is to be extended globally.
ISS aims to take advantage of new technologies and digitalisation to make the facilities they manage smarter, more user friendly and efficient. IoT technologies are being adopted more and more in the facility service industry using data to drive more automated building systems.
For example, lighting and climate control and providing great experiences for building occupants. Haltian will serve as a global partner in providing ISS with reliable and scalable IoT solutions that compliment ISS vision for facility services.
Trust is an important factor in digital solutions
In ISS, all products go through an external review process, which includes the review of e.g. product design, environmental conditions and security. Sam Lavers, global head of Digital Excellence & IoT, ISS Group says, "At ISS we set a high standard for our IoT partners in order to maintain safe and secure delivery of device data into our solutions.
We were delighted that Haltian were willing and capable of meeting these requirements and look forward to boosting our digitalisation portfolio with Haltian as an ISS partner" Haltian's Thingsee IoT solution platform is a data collection hub which offers an easy, secure and cost-effective way for businesses and enterprises to digitise their operations.
Jari Tiirikainen, head of Digital Excellence, ISS Finland says, "For ISS the most important thing in digitalisation is to create an ecosystem that includes partners who are agile, innovative and capable to adapt to the fast-changing pace of FM industry. Haltian has proved itself to be one of those partners"
Haltian's sensors and IoT platform have been used for more than a year in ISS Finland, and now the cooperation will be expanded globally. "Our partnership with ISS will create new kind of facility services globally with the help of IoT solutions," adds Haltian CEO Pasi Leipala. "Our goal is to make IoT easy for everyone and we are excited to help ISS bring digital solutions as part of their facility management services."
Comment on this article below or via Twitter @IoTGN