IIoT-enabled M-Bus level converter family launched with extended functionality and comfort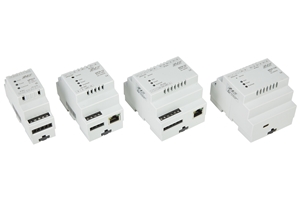 STV Electronic has completely redesigned its M-Bus level converter family, optimising it for use in smart metering and IIoT applications.
Newly added features include level and protocol converter functions from M-Bus to USB, support of IPv4/IPv6 and real-time MQTT messaging with M-Bus to Ethernet, as well as an integrated web server for parameterisation and monitoring of standard M-Bus loads. Previous versions offering only RS-232 or RS-485 interfaces have also been updated and are now available with additional optional Ethernet.
The IP-based parameterisation interface greatly facilitates the implementation of these Ethernet-based MPW-IP level converters as no special software is required. Further benefits include more options to monitor M-Bus connected meters and adaptive sensors. It also becomes easier to parameterise and monitor actuators that control power supply and consumption, such as switches and power controllers or pumps and valves. The new M-Bus level converters are used in electricity, gas, water and district heating networks.
Customers of the new M-Bus level converter family include project developers, system integrators and the electrical trade; end consumers such as industrial companies with DIN EN ISO 50001-compliant energy management systems, private property operators and home owners; as well as public-sector clients such as municipal housing associations, universities and hospitals.
Energy supply companies can also leverage the new converters as an interface between Smart Meter Gateways (SMGW) and local M-Bus devices since the level converters are protocol-agnostic. They therefore also meet the requirements of end-to-end encryption as enabled, for instance, by Open Metering System (OMS) compatible smart meters and sub meters.
"The new M-Bus level converters give our customers an entirely new implementation and user experience with significantly more comfortable control along with the usual fail-safe and reliable operation," explains Markus Hühn, managing director of STV Electronic. In the past, people installed M-Bus level converters either hoping that the standard M-Bus loads would match the level converter, or spending a lot of time measuring M-Bus loads."
"Today, proper operation – including maximum permissible current – can be checked in real time via the level converter's web server. In the past, M-Bus devices were also parameterised locally via the serial interface of the level converter. This required the installation of special software on the service computer. Today, it is possible to parameterise and monitor proper operation, including maximum permissible current over time, from anywhere in the world via the integrated web server – all of this password protected, of course. This gives users full control at all times over their energy management and resource consumption and allows them to operate their facilities and buildings efficiently, even remotely.
Comment on this article below or via Twitter @IoTGN