Bamboo bikes and electric skateboards take to the track at MOVE 2020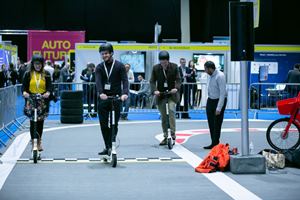 Bikes made from bamboo, electric skateboards and hydrogen-powered eBikes are among the vehicles available for MOVE 2020 visitors to try out on the London event's test track this year. MOVE 2020 takes place at London ExCel from 11-12th February, 2020.
Whether catering for the first and last mile of a journey, or providing sustainable solutions for developing economies, the event's test track showcases the latest in mobility technology.
Cormac Martin, MOVE 2020 conference director, says, "The way we travel and move around cities, both in the UK and internationally, is changing. MOVE shines a light on the creative solutions and disruptors paving a way towards sustainable travel and the test track is the best place in London to experience what's in store."
Companies demonstrating vehicles include:
Keynotes from Lyft and Lilium
Autonomous vehicles and the Chinese electric car market will also be hot topics at the MOVE 2020 conference and exhibition.

The event will see Raj Kapoor, chief strategy officer and head of Business, Self-Driving at Lyft, talk about the ride-hailing firm's ambitious self-driving vehicle operation. Co-headlining is Rupert Mitchell, chief Strategy Officer at Chinese electric car company WM Motor, who will speak about the electric car revolution in Asia.
Also high on the bill is Remo Gerber, Lilium CCO who will speak about the German start-up's quest for regulatory approval for the world's first all-electric air taxi. Gerber will also discuss the role of air taxis in sustainable mobility.
Cormac Martin adds: "The speakers we've signed up for 2020 are on a journey that will change the way we travel and move around and between cities. And that's exactly what we're looking for – we've got a bold vision and we need people who aren't afraid to challenge the status quo, and who will inspire the industry to think differently and push limits.
"Our goal at MOVE is to shape the future of urban mobility by casting a spotlight on the creative solutions and disruptors paving the way towards sustainability."
Further keynote speakers include:
Paul Newman, founder and CTO, Oxbotica
Angela Hultberg, head of Sustainable Mobility Ingka Group, IKEA
Seleta Reynolds, GM, Los Angeles, DOT
Eckart Diepenhorst, CEO, FREE NOW
Fredrik Hjelm, CEO, VOI
Ian Simmons, VP Research & Development, Magna International Inc.
Roger Hunter, VP Digital Business, Royal Dutch Shell
Charlie Simpson, partner and head of Mobility 2030, Global Strategy Group, KPMG UK
To book tickets and receive a special 50% discount, visit MOVE and use the code MEDIA50 at checkout.
Comment on this article below or via Twitter @IoTGN