Semtech releases new LoRa smart home device for IoT applications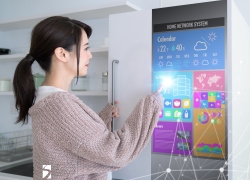 Semtech Corporation, a provider of analog and mixed-signal semiconductor products and advanced algorithms, announces the launch of the new LoRa Smart Home Devices (LLCC68d) extends LoRa's market applications from industry-class low-power wide area networks (LPWANs) to smart home, community and consumer applications. The transceiver provides low power and extensive coverage for Internet of Things (IoT) devices in indoor and adjacent areas to connect sensors and actuators for security, environmental monitoring and convenience applications.
"With its simple and flexible network architecture, Semtech's LoRa devices offer consumers a unique opportunity to accelerate adoption of smart home connectivity solutions. As an end-to-end solution, or as a complement to Wi-Fi, LoRa is Marc Pegulu, vice president of IoT business at Semtech's Wireless and Sensing Products Business Unit, expands the smart home solution by providing connectivity between low-cost and battery-powered end-node devices both indoors and outdoors."
"This new LoRa smart home chip is compatible with the LoRaWAN protocol for low-latency smart home applications such as smart locks and lighting, enabling low-cost network expansion and many LoRaWAN-based B2B and in today's IoT market. The B2C solution provides a bridge."
The new transceiver will be designed for battery-operated sensors that can run for many years. It has a sleep current of 600nA and a working receive current power rating of 4.6 mA. With its low-power local area network (LAN) usage scenario LoRa modulation mode and support for traditional use scenarios (G)FSK modulation, the device is compatible with existing LoRaWAN networks and can also support proprietary communication protocols.
The RF chip is suitable for systems that comply with radio regulations, including but not limited to ETSI EN 300 220, FCC CFR 47 Part 15, Chinese regulatory requirements and Japan ARIB T-108. Its continuous frequency coverage from 150 MHz to 960 MHz supports all major sub-GHz license-free (ISM) bands worldwide.
Main product features 
High sensitivity up to -126 dBm
Its high efficiency amplifier supports +22 dBm output power
The system works even if the signal is 10dB below noise.
Minimum external material (BOM) / matching workload
24-pin 4×4 small package
Works with existing LoRaWAN gateways
RX current consumption <5 mA
25 mA TX @ +14dBm
Integrated DC-DC and LDO
Support for LoRaWAN and other protocols
For more information click here
Comment on this article below or via Twitter @IoTGN