If you need to connect a low bandwidth device for a decade why do it more than 1NCE?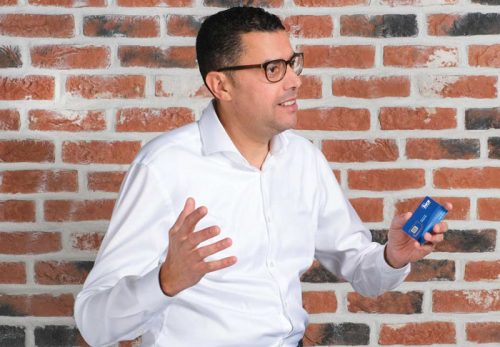 Younes Allaki is chief technology officer of 1NCE and one of the company's four founders who managed to develop and launch an IoT mobile virtual network operator (MVNO) in just under six months earlier this year. The company is bringing a new approach to IoT connectivity with a headline offering of one megabit a month for ten years for €10. In addition, 1NCE offers previously unseen flexibility in terms of minimum orders and the speed at which it can supply SIM cards to customers.
IoT Now caught up with him recently in an industrial location in Cologne, Germany to talk about the challenges involved in increasing customer understanding of the connectivity options that 1NCE can provide and communicating that time-to-market is critical for the success of many IoT businesses.
IoT Now: The requirement to deliver as few as ten SIM cards in as little as four days is very different to traditional IoT deployments that require minimum SIM volumes often of at least 1,000 and lead time measured in months. When establishing 1NCE what technological approaches did you identify as critical to enable this flexibility at the appropriate cost?
Younes Allaki: First of all, 1NCE operates a lean and virtualised network environment that enables us to realize savings that are reflected in our pricing model so that customers directly benefit from the economies and efficiencies we have created in the connectivity provisioning process.
Secondly, a high level of standardisation is defined as a basic rule in our company to ensure flexible integration of our virtual platform into partner ecosystems and easy interconnection with other network providers. Furthermore, we offer self-service and selfdiagnostic tools accessible through our customer portal and programming interface.
These capabilities complement our customers' targets for a fully automated environment on one hand, while allowing us to operate the connectivity platform efficiently on the other.
Last but not least, we simplified our product to its core capability which is providing connectivity for low bandwidth applications. We are not trying to meet individual needs by creating and supporting individual offerings, but offer one singular product.
What´s critical here is to truly identify and to make the customer´s challenge concrete. You can then start with the heart of your idea – what's most important – and plan and build up to a solution to this gradually.
IoT Now: How different are the requirements of the 1NCE offering to a standard, traditional enterprise connectivity contract?
YA: Traditional connectivity contracts try to provide a specific offering for any individual connectivity need. That creates complexity in tariff plans, keeps prices high and results in a lack of transparency. In addition, it forces customers to allocate usage on a month-bymonth basis, charging fees for any excess usages and basic fees even when no usage occurs. Our product eliminates the complexity of multiple tariff plans or extra fees with an overall data allowance across the ten-year length of its contract. In short, it is truly a flat rate model.
IoT Now: Handling small volumes and delivering quickly is a core value proposition but how are you able to do this in the real world?
YA: Our company is based on the principle of customer centricity. We recognise that IoT solutions are different and complex so we focus on keeping connectivity simple. To achieve this we have standardised the connectivity building block as much as possible in order to simplify integration of connectivity.
Any order, be it ten or 10,000 cards, is placed via our online shop and after the payment is received, the cards are activated and shipped – it's that simple. The customer also gets immediate access to our connectivity management platform where they can directly see the status of their shipment, the number of ordered SIMs as well as how to setup the connection to our network and, later on, they can see data usage of each SIM via this platform.
IoT Now: Similarly, what approaches have you taken to ensure you can provide the flexibility at the cost that enables your offer of €10 per month for one megabit for ten years?
YA: We consider ourselves as an IoT native company. That means that, right from the beginning, we created a company that is structured and technologically built for – and only for – the Internet of Things.
We do not have legacy, expensive overhead or administrative structures. We operate leanly and were able to set up an organisation that is agile and flexible. We do not silo functions, ideas and activities. In fact, ours is a 360-degree culture in which our salespeople understand our technical details, our technical people know marketing and our entire company functions without artificial structural divisions.
Within these functions we are highly automated and clearly focused on the low bandwidth IoT business.
IoT Now: Your proposition is very different to those out there in the market for IoT. How do you make customers comfortable that you can truly deliver what you say you can?
YA: We understand the unique challenges of serving a business-to-business market. This includes supporting our customers' high standards, their need for stable products and their inability to tolerate constant upgrade cycles. 1NCE has built a reputation as a trusted partner that offers exactly what our customers need: certainty and stability, delivered with impeccable speed. Of course, having the support of Deutsche Telekom as a partner is helping us tremendously in gaining trust and credibility. But, looking back over the past six months, we have also created a lot of traction and kept the promises we made at our launch event at MWC in February 2018. We have even outperformed some of our strategic goals in terms of geographical expansion, for example, and this is being recognised and valued in the market.
IoT Now: To what extent is 1NCE a greenfield environment? How important is it to have no legacy if you are to innovate effectively?
YA: 1NCE is not exactly a completely greenfield project because we have taken advantage of existing structures and developed our own solutions where necessary. For example, as a mobile virtual network operator we don't have our own radio network and we have no proprietary frequencies. But we do have our own evolved packet core (EPC) including all important technological core elements including packet data network (PDN) gateway (PGW) and home location register (HLR). To me, this approach is even smarter than a pure greenfield development because it enabled us to gain speed at a very early stage. Also, not all legacy should be seen exclusively as a bad thing. It´s more about evaluating and deciding when to exploit existing structures and when to innovate.
IoT Now: What attracted you to joining 1NCE?
YA: First of all, I am thrilled by our products proposition: a never-seen-before connectivity offering delivering exactly what customers want – connectivity that is simply delivered for the lifetime of the connected device. It is simple but, at the same time, revolutionary, because it hasn't been done before and it´s exciting to be a part of that.
On the other hand, having worked for corporate organisations and renowned brands and also understanding the advantages and disadvantages of company size, I wanted to take part in the creation in a completely new company. Being able to design it from scratch according to our customers' needs and not according to the product offering is exciting to be involved in.
IoT Now: How do you see the company and its technology developing over the next few years?
YA: We set out our position to be the innovation leader in IoT connectivity and currently we provide seamless IoT connectivity across 28 EU countries plus Norway, Switzerland, Russia, Belarus, Ukraine, the United States and recently China. We are moving at a fast pace aiming at truly global expansion in 2019 while keeping track of the technological developments occurring around us.
At the moment we are focusing on narrowband IoT (NB-IoT) and 2G and 3G cellular connectivity as the standards for IoT applications but, simultaneously, we are taking part in discussions on the role of 5G IoT connectivity in the context of cities and municipalities, for example. By keeping our agile mindset and lean company structure we secure flexibility and adaptability for these kinds of future developments and ensure we will be able to react accordingly to demand and developments as they arrive.