The need to integrate data is urgent and non-trivial, says the Father of IoT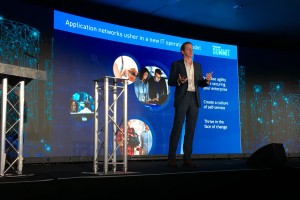 MuleSoft founder, Ross Mason
opens the EMEA Summit
Kevin Ashton has been an executive director and visiting engineer at Massachusetts Institute of Technology (MIT) where he led work on the next generation of computing. Perhaps more importantly for this report, says Jeremy Cowan, he is the man who coined the term the 'Internet of Things'.
Ah! That Kevin Ashton. Right.
So, when he agreed to speak, no one was surprised that 2,500 registered to join the MuleSoft EMEA Summit at London's ExCeL expo centre on November 13th. And those I spoke to afterwards were not disappointed; he brings a world of research experience, a sense of humour and the gravitas of recognition for his academic work and serial entrepreneurship.
He began by demonstrating the pace of recent technological change, and how we all become quickly accustomed to it. A pixelated image of Pluto (left; in fact, only 15 black & white pixels) was shown resolving over a period of 85 years into a colourised and dramatically detailed image (below) of the erstwhile planet (it was reclassified to a dwarf planet in 2006).
Ashton took a sideways swipe at some products that claim to be IoT-enabled but aren't, drawing laughter when he showed a photo of a smartphone app interacting with a "smart" wine bottle. "If you need a 'smart' bottle and app to tell you if you're drunk," he said, "you're drunk!"
Instead he drew a parallel between the Internet of Things and the human body. Sensors are only useful if you put them into a network. "It's the same with your sense of touch and hearing connecting to your nervous system. We've turned the world into Data. Then you must do something with the data – in the 20th Century it was via spreadsheets. Now you need Artificial Intelligence and Machine Learning to look at data and tell a human or an automated system to do something."
Life-changing IoT application
Kevin Ashton cited two examples of new IoT applications. Some chronic lung diseases can be analysed by spirometers but these are costly and frequently unavailable in remote areas of Asia and Africa. He pointed to pioneering healthcare that is now being delivered in Kenya with patients blowing into a smartphone microphone. When transmitted to a hospital equipped with a spirometer, the volume of air inspired and expired by the lungs can now be analysed remotely with 95% accuracy.
In another example, Ashton showed how T-shirts destined for the US are mostly made in Bangladesh. The cost per T-shirt is US$0.22 (€0.19), as opposed to $7.47 (€6.61) for T-shirts made in the US. With a new robotised sewing machine (inevitably dubbed the Sewbot) humans are being replaced and the machine can produce one million T-shirts a year in the US at a cost of $0.33 (€0.29) each. He didn't expand on the human cost of unemployment in Bangladesh but said that shipping costs are drastically reduced too.
"There's a catch," said Ashton. "If you had four separate systems delivering sensory information in your body you'd have a disintegrated mind." He paid tribute to the role of solutions like MuleSoft's Applications Network which is working with customers like confectionery and pet food maker Mars, and others as diverse as Airbus and Air Malta, to use Application Programme Interfaces (APIs) to integrate siloed data. "At the moment," he added, "in the Internet of Things we have disintegrated data taking us to Indecision. This is non-trivial, we need to integrate all the data."
Can data integration be solved by APIs?
Earlier in the day, a keynote address was given by Ross Mason, the founder of MuleSoft, the Summit's host. MuleSoft, which was acquired in May 2018 by Salesforce, aims to enable users to build an application network with secure, reusable integrations and APIs. These are designed, built, and managed on its Anypoint Platform.
He told the delegates in London, that digital transformations meant, "This is no longer about big companies eating the small, it's the fast eating the slow."
Turning to security concerns, he pointed out that these are not the fault of the IT leaders assembled, but they have the responsibility for protecting their organisations and evolving from product and service delivery roles to growth.
He described the IT landscape as a ball of mud with new mud (in the form of new applications) being added all the time. "Now," he said, "we are breaking apart the monolith (the ball of mud) with APIs." Disruptive companies don't work with the old model."
By way of example, he cited Uber which had not built Maps, or payment apps, or connectivity. They worked through APIs with existing applications. "But APIs aren't enough," Mason continued. "We're shifting from individual building blocks to application networks. They're needed because APIs don't do much, they need this organisational structure."
He reassured his audience, "APIs aren't opening another hole in you firewall. Security & Governance are built into every node, they're built for re-use with core capabilities including Standardisation." Mason listed three key desired outcomes for businesses using Application Networks to achieve their digital transformation; they are Secure by Design, they have Speed & Agility through reuse, and are Built for Change, "delivering (successful outcomes) fast not just once, but over and over again."
"Having visibility into how things are connected will be massive and being able to effect change quickly is critical. Application Networks will usher in a new IT operating model; increasing agility while securing your enterprise, creating a culture of self-service, and thriving in the face of change," MuleSoft's founder concluded.
The author is Jeremy Cowan, editorial director and publisher of IoT Now.
Comment on this article below or via Twitter @IoTGN