IoT Platforms: is interoperability an issue?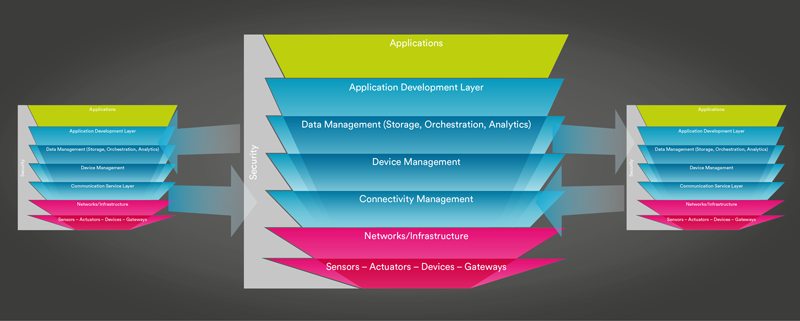 Interoperability is coming: it's only a question of when, not if. The IoT is predicated on the creation of a web of platforms that support smart environments in cities, manufacturing, health, energy and so on. Companies that want to work closely with their partners are creating smart ecosystems that comprise different platforms. Therefore an efficient, secure flow of information between platforms is required. It's required for applications like the value chains of manufacturers and it becomes a critical issue when companies are acquired. Moreover a recent McKinsey report indicates that up to 40 percent of the value of the IoT can only be enabled with interoperability.
Right now the IoT landscape comprises heterogeneous platforms. This comes from the rapid transition from point–to-point M2M solutions to multi-point IoT and the subsequent deployment of solutions that are vertically orientated and which employ proprietary technologies. However, the exchange of data between different platforms can be realised and an industry-wide momentum as well as various institutional initiatives are driving and extending this development. Interoperability can therefore be seen as work in progress, but it should be included when evaluating a platform's performance parameters.
APIs are a key enabler
APIs (Application Programming Interfaces) enable standardisation at the data exchange layer. They allow data to traverse vertical markets: APIs are protocol agnostic with respect to the device type and the data volume as well as the data transport protocol. Therefore interoperability across mainstream platforms can be realised using APIs, but an API Management capability is needed to create the requisite common interface. The presence or absence of this capability is indicated in the Application Development layer of the IoT Pilot heat maps. Systems integrators have this capability and enabling interworking at the data management level is a key part of their IoT offer.
EU and other initiatives
Standards are key to enabling interoperability, driving down costs and stimulating growth. However, standards processes are complex, take a long time to evolve and be adopted. Industry initiatives like the Industrial Internet Consortium are advancing the process, but significant, long-term investments are needed to enable the IoT to realise its full potential.
BIG IoT is an EU Horizon 2020 funded project and a stated goal is to facilitate the development of cross-platform, cross-standard, and cross-domain IoT services and applications. Part of the project involves the development of an IoT ecosystem architecture as well as the BIG IoT API, which is a generic, unified Web API that is aligned with the standards being developed by the W3C Web of Things group. The project focuses on the upper layers of the IoT architecture by addressing the security management, APIs, service integration, external system services, applications, and the business enterprise.
Interiot is a consortium that has also received funding from EU's Horizon 2020 research and innovation program. The overall goal is to provide an interoperable and open, cross-layer framework with associated engineering tools and methodology. Integration between heterogeneous elements is usually done at device or network level and is limited to data gathering. Interiot believes in a multi-layered approach, i.e. a six layer architecture with modules covering the QoS and device management, service integration, external system services, storage and virtualisation.
oneM2M
Interoperability is a complex, multi-faceted issue: there is no silver bullet solution. That said, it's a mandatory requirement for the industry as it goes forward. One facet is the need for a new approach, which oneM2M sees as enabling interoperability at a different level, well above the devices that form the end-points of IoT architectures.
oneM2M is a joint project involving eight leading ICT standards bodies as well as six global ICT consortia. The organisation has created a set of standards to provide a horizontal platform architecture that enables applications to connect through standardized APIs to data sources, regardless of the underlying connectivity technology.
Interoperability via agility
The core competence of Systems Integrators (SIs) is their ability to enable interoperability for their customers and partners. It's their raison d'être and they prosper or perish according to their ability to deliver the requisite functionality. Enterprises are the SI's biggest customers: they normally operate in large ecosystems and have very demanding requirements.
Accenture is one of the world's leading SIs and in order to meet the requirements of the enterprise sector the company has created its own IoT platform and enabled interoperability in a way that is significantly different and innovative. The platform is based on the fact that many of today's IoT applications employ the same components; therefore they harvested the company's in-house real-time analytics, device management, workflow and visualization capabilities. For example, Accenture has a Communications Platform as a Service offer (CPaaS) that interoperates with AWS, Azure, ThingWorx, SAP and other mainstream platforms.
The innovative objective was to create an agile IoT platform as a "platform of platforms" that simplifies the creation of applications by tapping into an ecosystem of service components across cloud, data, analytics and applications. Knowing that technology will continue to change across all parts of the platform meant that picking a single approach would not suffice. Instead the platform enables new components to be plugged in, thereby enabling applications to evolve by deploying leading-edge technologies as well as support for new use cases and future growth.
The platform of platforms concept could involve the creation of an application that leveraged medical-grade data from Qualcomm Life, CRM data from salesforce.com, and third-party device data from AWS IoT. This hypothetical example illustrates how applications will increasingly leverage third-party components that Accenture facilitates by curating a library of internal and third-party components.
Conclusion
Interoperability is inevitable given the benefits that this development will enable. Service providers will be able to reach new markets, and new business opportunities will emerge from the ability to manage data from diverse sources. But it will evolve in different ways and at different speeds in order to meet the diverse needs of an economy based on smart connected products and systems.