Connectivity Management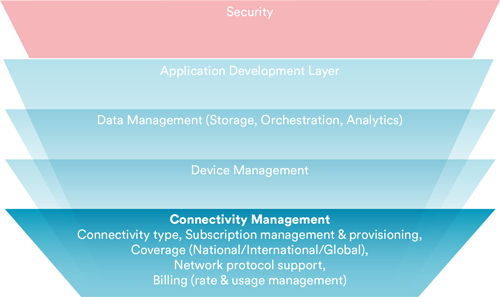 IoT devices have evolved into smart network endpoints that can perform intelligent actions on their own and the result is an increasing number of complex networks comprising smart products that need to be managed as a unified system. Connectivity management platforms provide the requisite service portfolio, which is employed by communication service providers, solution providers, systems integrators and the business community.
The key service is to enable data calls to be made to the devices, monitor the quality of the calls and, when required, shut them down. Without managed connectivity there is no IoT, which means that everybody needs it. Businesses, large and small, multi- or single-national, all have the same baseline requirement, which indicates that the market for connectivity management services is huge and it's growing, in line with that of the IoT.
Monitoring call quality involves data consumption, needed to detect usage of the network by rogue devices and to prevent billing surprises. In addition the service portfolio will typically include support for different network protocols, provide subscription and billing management as well as coverage details, i.e. national / international / global. Some vendors also include connectivity analytics.
Coverage is clearly a mandatory requirement and several MVNOs (Mobile Virtual Network Operators) have created platforms that meet IoT's specific connectivity requirements. Solution providers and systems integrators employ connectivity as part of the IoT platform stack in order to create and deploy solutions and enable interoperability. But in most cases usage by the business community is less direct.
Business users of these systems do not want to configure and manage the connectivity of their devices, preferring instead to focus on their own area of competence. They just want the devices to be connected 24/7 so that sensor data can be securely accessed by the applications in order to ensure cost-efficient delivery of the company's IoT services.
Connectivity and device management
Although device management performs a different set of services, they are tightly linked and both device and connectivity management are needed in B2B solutions. In fact the link is so tight that some vendors market connectivity management platforms that encompass various device management functions. Device management will be covered in more detail in the next edition of this newsletter.
LoRa wide area networks
LoRa is a low power, low cost technology that is ideal for local area networks, which is where it was initially deployed. However, local networks can be aggregated into wide area networks that compete with cellular low-power services like NB-IoT. Specialist companies like ThingPark Wireless and Senet provide connectivity management services for the LoRaWAN sector. However, the entry of Cisco into the market underlines the emergence of LoRa as a significant contender for use in mainstream applications such as smart cities, asset tracking plus gas and water metering.