How the use of mobile and wireless technology is changing manufacturing: Part 2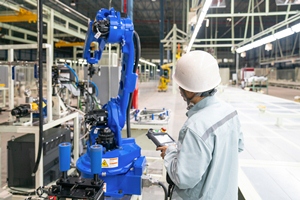 Here, in part 2 of this 2-part article, Bryan Christiansen, founder and CEO at Limble CMMS, describes the importance of maintenance management.
3) Maintenance management
Experienced plant owners can probably relate with one of the major contributors to poor-quality products – the manufacturing equipment. One incorrectly aligned, poorly maintained, over-lubricated, or poorly calibrated mission-critical equipment item is sometimes all it takes to ruin a large batch of products.
This may explain why the Industrial Internet of Things (IIoT) has had such quick adoption in the manufacturing industry.
Here are a few ways it can improve your maintenance management drive:
Proactive maintenance – With IIoT, plant managers receive data from in-service equipment that empower them to proactively plan maintenance. Selected machines are fitted with sensors that raise alerts when there is an anomaly that could cause a potential downtime (e.g excessive vibration or heat). Maintenance personnel can then take steps to intervene on time and prevent imminent failure. This represent a basis for condition based maintenance and similar proactive maintenance methodologies.
Technicians can get alerts on the go to attend to malfunctioning equipment – All they need is access to log into a Computerised Maintenance Management System (CMMS) with an enabled mobile device especially a smartphone or tablet. This is a particularly revolutionary and game-changing benefit of mobile CMMS. Plant managers now commonly deploy these portable devices as an almost indispensable part of their day-to-day operations.
Picture a factory where all equipment are monitored by internet-enabled devices and sensors – There would be reduced need for human operators to continuously move around checking the machines. As a result, they can devote more time to other duties. Also, automating this aspect reduces the effects of human errors.
Considering all the above, it's no surprise that the manufacturing industry is leading other sectors in the IoT revolution.
Now more than ever, machines are becoming smarter and are making production faster, more profitable, and safer for humans. Manufacturers need optimum real-time communication between machines and their operators, even from remote locations, to really reap the benefits of their investments. The synchronisation of mobile and wireless technology makes it possible
The businesses that choose to research and adopt these technologies are giving themselves an edge in the increasingly competitive market.
The author of this blog is Bryan Christiansen is the founder and CEO at Limble CMMS
About the author 
Limble is a modern, easy to use mobile CMMS software that takes the stress and chaos out of maintenance by helping managers organise, automate, and streamline their maintenance operations
Comment on this article below or via Twitter @IoTGN