Digital Goodie joins zebra's partner connect program bringing its leading order management system to thousands of zebra customers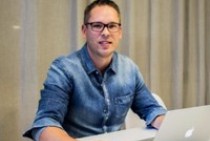 Kalle Koutajoki of Digital Goodie
Digital Goodie, the creator of an award-winning digital commerce and distributed order management platform, announced its participation in Zebra Technologies' Partner Connect program. Digital Goodie is now one of Zebra's official Independent Software Vendor (ISV) partners.
Zebra's Partner Connect Program is a global network that offers Zebra's partners extensive opportunities for collaboration in delivering solutions for current and potential customers. The partnership between Digital Goodie and Zebra will mean a powerful combination of the world's leading retailers getting access to the most efficient fulfillment solution on the market, enabling true Connected Commerce.
Zebra claims to be the world's largest retail technology company specialised in the digital enablement of stores and warehouses, with thousands of customers including 95% of the Fortune 500 companies. Digital Goodie's order fulfillment technology is 33% more efficient than the industry benchmarks, with an unbeatable order picking efficiency of up to 200 picked rows/hour.
A rock solid order management system is at the heart of making profits in in-store order fulfillment. Combining the best of breed solutions from Zebra and Digital Goodie will allow Zebra´s customers a clear edge on in-store order management efficiency, contributing directly to their bottom line.

The two companies are already working together with seamlessly integrated devices used in in-store and darkstore picking. For Zebra and Digital Goodie, the program allows further strengthening the partnership as well as opening up new opportunities for working together with other Partner Connect ISV partners and to develop the offering to solutions specifically designed and optimized for Zebra devices.
Digital Goodie's CEO Kalle Koutajoki comments: "In order to stay competitive, retailers need to invest in the best omnichannel technologies available while maintaining cost-efficiency. With our most advanced fulfillment solution on the market and with our extensive partner network, we are fully equipped to help retailers to carry out the changes needed to be part of the disruption changing the way retail operates. Managing order fulfillment complexity is what we do best, and the partnership with Zebra is a great new opportunity for us to expand our customer network. We are very excited to be in the program."
Fredrik Hallin, regional channel lead at Zebra Technologies says: "Zebra's Partner Connect Program is designed to provide outstanding software vendors with access to the sales, marketing and technical support that they will need to develop, integrate and promote their solutions in new markets around the globe. Digital Goodie offers world-class solutions for connected commerce, and we are delighted to welcome the company to the program. We look forward to our expanding cooperation."
Comment on this article below or via Twitter @IoTGN