HokuApps expands in US and Asia-Pacific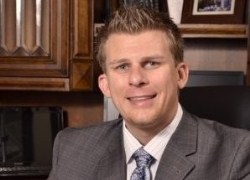 Richard J Radobenko of Roofing Southwest
Organisations in the US and APAC are increasingly choosing HokuApps' Enterprise RAD model to build the right kind of enterprise-level app eyeing digital business transformation.
HokuApps' uniqueness lies in its data integration platform that offers rapid connectivity to suit all API specifications at 10X faster speed and at a surprisingly affordable price. Businesses can choose from more than 500+ API tools to cater to every requirement. The big names finding value in HokuApps' solutions are: Focal Security, Roofing Southwest, PTI QCS and many more.
Fern Pais, head-communications, HokuApps, said, "We are digitising operations, accelerating business decisions and driving agility at the speed of thought. 'The HokuApps Experience' is all about kick-starting the digitisation journey for our clients for enabling innovation, modernisation and transformation with our platform. We are proud to be moving the needle in the tech-brewing market space as we continue to project considerable growth and expansion over the past few quarters."
Enterprise mobility solutions for driving digital transformation
HokuApps simplifies the complex process of mobile app development to rapidly develop custom mobile apps for unique business needs and workflows like: Secure Enterprise Messaging Service, Field Service, CRM, Human Resource, Executive Dashboard etc.
HokuApps has provided app solutions for companies in the industries of: Education, Energy & Utility, Education, Insurance, Manufacturing, Media & Advertising, Retail, Telecommunication and Transportation & Logistics.
Mobile Application Development Platform (MADP) for unique ecosystems
HokuApps' mobile application development platform (MADP) creates smart and agile mobile solutions even for the most complex workflows, deployed in no time.
HokuApps platform offers one-click integration to over 500 third-party applications with built-in connectors for legacy systems, to develop and deploy enterprise-grade mobile apps rapidly. With a platform that has powerful inbuilt tools- granular user access, powerful reporting, unified communication platform, reliable security model – ideas get implemented within days.
Data integration platform for maximising business value
A single, pre-built connector captures and condenses all data operations, eliminating the requirement for multiple connectors while providing active discovery of data from existing and newer sources in a cost-efficient way. With self-driving capabilities for analytics and data integration, customers can focus on boosting growth by limiting human error.
Rapid action development platform for transforming ideas instantly
Offering one click integration with over 500 different apps, the HokuApps rapid enterprise application development platform offers a low code approach to integrate with existing systems. Inbuilt connectors allow it to float with existing enterprise applications ensuring standardisation, revenue maximisation and workflow optimisation.
Integrated tools empower users to quickly integrate BPM into application modernisation. With the business environment, bespeckled with legacy software and disparate systems like ERP and CRM, HokuApps' custom built connectors help businesses make all systems work as a unified and streamlined process.
Customer speak
Roofing Southwest's operational backbone is now being supported by HokuApps' enterprise solution which shifts everything from a largely paper-based to a highly digital and cloud-based operation. "The roofing sector is plagued with issues of outdated process management, lack of structured systems in streamlining repetitive tasks, team fragmentation and lack of integration," said Richard J Radobenko, president, Roofing Southwest.
"It is time that we adopted the digital route to a brighter future. With the support of HokuApps, we wanted to digitally eliminate the roadblocks with the intelligent use of technology. We believe this will catalyse our efficiency and scalability thereby transforming our business."
For PTI QCS, HokuApps designed a customised enterprise solution enhancing collaboration, simplifying workflows and increasing productivity.
Comment on this article below or via Twitter @IoTGN