Where is the industry getting it right and wrong in Smart Homes? DT's Rockmann tells it straight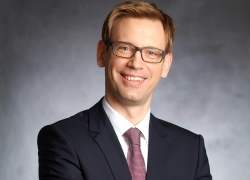 Thomas Rockmann of Deutsche Telekom
Smart homes and where the industry is getting it right and wrong. So Jeremy Cowan of IoT-Now.com asks a few question to Thomas Rockmann, vice president, Connected Home at Deutsche Telekom, to shed some light on the smart homes issue.
IoT Now: Where are we as a business sector with delivering on the promise of complete home automation and control?
Thomas Rockmann: Having too much of a focus on technology, we risk falling short of making sure that we meet consumers' needs. So instead, our focus needs to be on creating consumer propositions that resonate across different markets and industries – e.g. telcos, utilities, insurers, etc – creating innovative new revenue generating services, which is the approach that we need to see realised to move this market forward.
The industry needs to wake up to the fact that we can create even greater value from the connected home, if we work together. Mutually exclusive ecosystems, or closed architectures, will not help anyone, least of all the customer. All it will do is result in even greater consumer confusion, weak use cases, and not drive the real growth, which is what we all want to see.
At Deutsche Telekom, we have created a white label, open smart home portfolio that enables firms across multiple sectors to build growth strategies and exploit opportunities in the market, while developing and releasing their own unique smart home propositions, which integrate into the platform's existing open and interoperable architecture open ecosystem. Our platform has been designed to be agile and ever expandable, so it supports the services, solutions and smart home devices that our partners and third parties release.
IoT Now: Which smart home technology innovations will be significant to consumers' needs/demands over the next 12 months?
Thomas Rockmann: We believe that smart home technology innovations need to meet consumers' needs and demands, and this was actually part of our conference session at CES 2018, where we spoke about Smart Home Platforms: Unlocking Consumer Value.
We are continuously working on optimising the user experience starting from the set up to the daily usage via an app. As part of our White Label Smart Home pick and choose portfolio we offer a white label app, where the whole customer experience and the app are continuously under optimisation/improvement based on customer research.
There are several innovations already making themselves known in the smart home sector, from Artificial Intelligence (AI) and voice assistants, to Ambient-Assisted Living (AAL), community IoT, and connected cars.
AI and voice assistants: Voice control is bringing smart personal assistants and AI into more homes – where devices are learning from a user's habits and presence. AI is everywhere now and its ongoing growth is something that analyst are already forecasting. In fact, a recent Gartner report predicts that 25% of households will use AI-powered digital assistants as the primary interface for connected home services by next year.
Major technology players are pursuing voice control and, currently, AI assistants serve two specific purposes; semantic assistance, by using AI to recognise not only the words or phrases, but also the context, and bridging the gaps between devices, services and products, which is where the smart home market really benefits.
By blending together devices and services from multiple sources, accessed via the AI overlay, consumers are divorced from the intricacies of technology, and freed up to live their lives. One example, in Germany, is a simple Alexa Skill that allows Magenta SmartHome customers to activate pre programmed situations or switch to the status "Absent" using voice control.
The wider potential for this is limitless, including delivering better dietary advice via smart fridge sensors, improved fitness through wearable devices allied with smart home data, or targeted healthcare in the home, as this market is only just beginning.
Collaboration and partnership will be key – as the integration of AI assistants from multiple vendors and service providers will itself generate a layer of additional complexity that could damage adoption if integration is not seamlessly managed by the industry.
AAL: As the global population increases and the overall lifespan of people also increases, healthcare resources are experiencing strain. AAL is one solution that could have a significant impact on this and has already resulted in a variety of European partnerships being established to research and fund AAL development. The seamless nature of smart home technology, and the wide range of sensors, from water and moisture meters, to smoke alarms and motion detectors can easily serve dual-purpose in an AAL environment. By networking sensors to communications devices, smoke detectors using DECT ULE could connect to mobile or fixed line networks to raise the alarm in the case of a fire-related emergency, for example.
Community IoT: A wider use of interoperability, this wider community use of smart home technologies aligned with social requirements is the next step for smart home technologies, where all residents in a block of flats have an app on their phones that allows them to communicate and monitor the building as a whole. An interesting example is a social community service, such as one that was rolled out in Germany in May 2017, which gave individuals the ability, without any technical skill or requirements, to start a private social platform for their building.
This meant that one resident could report a broken lift or non-functioning communal light, which would be logged on the platform and a repair technician allocated to resolve the matter. Other members of the community could then follow the progress of the repair, rather than logging duplicate requests for the same job. Other benefits to the community system range from getting neighbours to water your plants or pet-sit while you are on holiday to getting real-time local tradesman recommendations.
Connected cars: The face of modern motoring is changing fast, and is now becoming more connected. This increased connectivity is manifesting already in many ways, with thousands of hybrid and fully electric vehicles (EVs) on the roads right now, and many more thousands with an existing data connection, making the connected car a big business opportunity within the connected world. To date these connections have been used firstly for diagnostic and telematic information, secondly for location and tracking-style applications, and only relatively recently for non-core motoring functions.
An excellent example is Deutsche Telekom's partnership with Volkswagen, which centres around Volkswagen's Car-Net App Connect. The integration enables car owners to seamlessly control their Magenta SmartHome, which is based on Deutsche Telekom's open, white label smart home platform, while away from their home.
Volkswagen drivers can control their Magenta SmartHome directly via their vehicle's infotainment system. Using the control panel, the driver can activate or turn off pre-set scenarios while driving. For the scenario "coming home", the lights in the driveway and house entrance would turn on automatically when the vehicle approaches, as the Magenta SmartHome app connects to the vehicle.
And what the combined future will look like with these technologies all integrated? The evolution of smart technology in answer to consumer needs will continue and the future sees smart home devices and concepts such as community IoT and AAL moving beyond our home's four walls and out into the wider arena of smart cities. The smart city is the next step for device interconnectivity and integration, as the same smart devices, technologies, platforms and services being used in smart homes could also be leveraged for far more comprehensive connected capabilities.
An interesting pilot project in the Netherlands called Crosswalk demonstrates the potential for smarter cities themselves to significantly improve life for older citizens. With just an app on their smartphone, less mobile pedestrians automatically get longer red light timings, helping them cross wider junctions. The impact on city streets is almost imperceptible for others, but is significant for the recipients.
IoT Now: Which business concepts has the industry's move from closed smart home platforms to interoperable open ecosystems brought about for existing and new players?
Thomas Rockmann: The smart home market comprises both startups and established companies, while the smart home ecosystem consists of many intersections and entry points. There are a wide range of use cases on the consumer side, which drives significant diversity in itself. Control and connectivity, comfort and lighting, security, home entertainment, energy management and niche smart appliances all create entry points for new incoming products and services, as well as provide partnership opportunities for incumbent players.
Then there is the ecosystem itself, consisting of supply-side manufacturers and service providers, retailers (whether purely digital, high-street or installer) and the consumer ecosystem. Virtualised and franchised business models add complexity to this simplified visualisation.
This combination of factors means that the range of business models is already quite broad. Pay monthly subscription-based services are a familiar concept, as are pay as you go models. The utility market though is driving service bundle packages, by bringing together connected home products with new green energy tariffs. One German utility provider has launched a new combined offering, giving a smart home base unit to customers for the contract period of their electricity and gas tariffs, to incentivise conversion.
Loyalty-based models have also seen significant uptake, where consumers are provided with the latest connected home thermostats and, in turn, significantly reduce customer churn. In some other cases, insurance companies are partnering with third party smart home security product manufacturers to extend their reach and user base.
While current business models are forced to work alongside a range of technical limitations, as these lift, the diversity of business models will be freed up and will increase in step. As the story of the connected home began with connectivity and interoperability, this will prove to be the future of the sector as well.
IoT Now: What will be the major successes for Connected Homes over the coming years?
Thomas Rockmann: Improved customer journey, user experience and simplicity: All key players in the smart home sector will be working on making the end user's experience and the interaction with new devices and easier. This simplicity is key to ensuring the Connected Home provides an even better experience for them. Consumers have clear, defined needs, so simplifying their customer journey and user experience (or UX) and meeting those needs will, in turn, provide those same consumers with a superior UX. This will then herald ongoing success within the Connected Home, particularly as we reduce any complexity on the interoperability side too.
Value proposition: more single use cases with a simple benefit: Most users will begin their smart home journey with a single use case, from security to lighting, that once satisfied grows laterally as they upgrade to further devices, services and discover new use cases – it is essential that the first experiences are excellent.
Decreasing device costs: In addition to smart home devices helping to reduce costs and conserve energy, those same devices will also reduce in price as new and more innovative products hit the market, and competition increases. Some smart home devices, like smart light bulbs, have reduced in cost over the past year, from over £50 (€56.23) to around £15 (€16.87) currently, which will accelerate adoption. Add in the evolution of the smart light bulb to offer additional services, such as security, means there is less challenge to the increasing adoption of this type of device.
Smart home security: Focusing on customer needs over technical features is the key to success in the smart home's security market and the implementation of 5G will be important as larger data quantities are transferred moving forward. The multifunctional purpose of devices means customers won't need as many devices, so the devices that they do select will need to have multiple sensors to enable them to perform more than just one single purpose.
By bundling different features into one easy-to-use product, vendors will be offering customers a comprehensive all-purpose solution that better answers their needs, both now and in the future. Such consumer-centric bundle offerings are vital to market success as users become ever-more savvy in their purchase choices. That said, vendors that take a non-sales approach to marketing their devices will also benefit. So, rather than selling a "surveillance camera" or a "motion detector", vendors should instead be promoting the device's burglar prevention capabilities and access control functionalities.
Energy management solutions: The future of energy management solutions within the smart home are likely to be as part of a broader integrated system, with some paid services like weather forecasting solutions becoming integrated rather than remaining a separate, additional revenue stream. To ensure energy consumption is managed optimally, remote sensors throughout the smart home monitor temperature, as well as location, so should your smart watch sense that you or anyone else is feeling cold, it will trigger the thermostat to automatically turn the heating on.
Based on data from temperature sensors in different rooms, you could also be offered advice about reducing energy consumption, based on the installation of insulation, or more energy efficient windows. In addition, should the external temperature change unexpectedly, the heating is turned on or off, eliminating the possibility of wasted energy.
Automated appliances: As the uptake of smart home solutions continues, another trend will be connected appliances replacing traditional ones, and automated replacement cycles becoming more commonplace, while existing devices, like coffee machines, provide individualisation services. This would include the coffee machine using facial recognition to automatically make a beverage to the exact preference of whoever is using it at the time.
IoT Now: What is Deutsche Telekom doing to speed up acceptance and recognition of the Connected Home?
Thomas Rockmann: We believe key to success is articulating single, simple and compelling propositions that answer consumers' needs. One of the key things that Deutsche Telekom is doing is ensuring that we work with our partners to create consumer propositions that resolve any disconnect between what we as an industry are marketing, and what consumers are ready to accept.
A key principle of our stance is the strategy of offering consumers a frictionless entry experience, with a solid use case and low-initial outlay device that incorporates a clear upgrade path to paid services. We believe that this blueprint is essential to deliver active smart home customers for the future – however the technology itself progresses.
Our platform also supports the Eclipse Foundation/openHAB initiative, and open source software is a core component of the architecture.
IoT Now: Which smart home technologies' trends are accelerating innovation the fastest, and why?
Thomas Rockmann: Digital assistants such as voice control and smart speakers will become ever more the primary interface to connected, smart home services. The voice control market alone is set to reach a US$18.30 billion by 2023, at a CAGR of 19.80% between 2017 and 2023, and as the technology is increasingly baked into AI-enhanced speakers and home entertainment products this sector is only going to accelerate.
In particular, what could be described as the natural enhancement to the voice-enhanced smart speaker, the addition of a touchscreen, has seen a wave of launches from most major manufacturers at CES 2018, with others likely to follow suit.
The smart home market is divided into segments driven by use cases, such as security, energy management, home entertainment and home appliances – all of which are sectors that both voice assistants and smart speakers will benefit.
Interestingly, this digital assistant trend is already a specialism among major players, such as Amazon's Echo. Deutsche Telekom's smart home platform interoperates with Amazon Echo via an Alexa skill, meaning it is able to communicate with Amazon's voice control Alexa, so that customers can now control their lights, blinds, alarm systems and much more via voice command.
Deutsche Telekom's Magenta SmartHome customers are already using voice control to personalise their homes by creating 'situations', such as "Off to bed" where the lights are switched off in the living room and dimmed in the hallway, the heating is turned down and the blinds are lowered.
IoT Now: What challenges does the smart home still face?
Thomas Rockmann: Complexity is a core challenge in the smart home market, and although manufacturers have undergone extensive branding exercises in an effort to clarify interoperability, it is often a painstaking task for consumers to research the details. The range of technical standards on the market, the varying interpretations of those standards by manufacturers, and the confusion raised by proprietary technologies all contribute to a significant challenge.
This complexity extends to use cases too, once consumers have a use case solved they are much more likely to follow the 'upgrade' path and delve deeper into smart home technologies, but often use cases are too overworked or unique to allow easy identification.
Price tends to have a direct influence on adoption within the mass market, so despite smart players like sound systems' company, Sonos, integrating existing solutions, like Amazon Echo, into its smart home speakers, the offering is only relevant for those who have both Sonos speakers and Amazon's Echo.
Comment on this article below or via Twitter @IoTGN