Five ways remote access will impact working practices – Part 1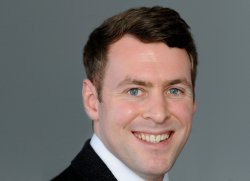 Adam Byrne, chief operating officerRealVNC
Trends like the Internet of Things, 24/7 business cultures, and evolving technologies mean that the way that we work is changing rapidly, and businesses are increasingly sharing resources and collaborating in order to get ahead. Some are unaware of the role remote access plays within these developments, when it often acts as the backbone.
With this in mind, Adam Byrne, chief operating officer of RealVNC has outlined some of the most prominent ways that remote access tools will impact businesses in the next 12 months. Here are the first three of five ways.
Remote access will accelerate breaking down business silos
Businesses across a wide range of sectors are recognising the competitive advantages of information and resource sharing, and we are seeing more collaborative business environments emerge. This is essential in today's very competitive markets. Together with other technologies, real-time screen-sharing technology is transforming office activities that are often inefficient, such as training, remote working and sharing resources. Staff are becoming empowered to access resources and talent from the whole business, regardless of location.
For example, construction firms such as Arup are using remote-access technology to facilitate a resource sharing and staff training revolution. They enable engineers and other experts to 'remote into' systems, apps and devices to share resources and help and train colleagues in distant offices, from anywhere.
Screen-sharing technology allows employees to participate in secure remote, real-time support or training from department experts in any location, and enables staff to 'remote in' to office PCs or servers from laptops, tablets or even mobile phones. With traditional business silos breaking down, companies are able to maximise their capital investments and reduce ROI, while removing traditional corporate barriers that hamper business efficiency.
Companies will increasingly solve problems and develop innovations by crowd-sourcing the best information and skills from the best sources across the organisation. Using remote access to facilitate this means that its past reputation as 'just an IT support tool' is beginning to fade, because it can enable collaboration across an entire organisation.
Businesses will demand tools to operate responsibly in an interconnected economy
The interconnectivity of different businesses within a larger ecosystem is developing real momentum. It is quite normal to see businesses in shared office space, or using shared storage space with cloud computing. Companies can no longer operate in isolation or they risk being-left-behind within an increasingly competitive and shared ecosystem.
As this trend progresses, tools to work with partners, or to help customers must become more creative, without compromising security. A greater need for connecting business processes to partners, suppliers and customers, means that tools like remote access will be called upon to deliver secure connectivity between businesses and directly with customers.
For example, businesses can use remote access to allow service providers or vendors to access their systems in a controlled and secure fashion, ensuring system are tuned, updated and resistant to downtime risks. In another scenario, organisations can grant their customers remote access to resources such as training and test environments. This virtually eliminates the expense and cost of training travel while improving customer service.
Managed Service Providers can also use this connectivity strategy to securely access their customers' IT resources to provide proactive and rapid support. Data centre software company iQuate, for example, is using remote access technology to enable customers to access their training servers remotely and securely through encrypted connections.
There are many ways that remote access technology can enable innovation in an interconnected business environment. In another example, the medical sector could use the technology to support remote training. A trainee doctor could remotely access an MRI screen, while the consultant talks through the scan. Scientists from different teams and partner businesses could remotely monitor experiments and critical system from anywhere in the world.
We have seen strong adoption of remote access as a tool to support collaboration between organisations in technology and engineering companies with high value propositions and mission critical software infrastructure. It is also true in highly competitive retail applications where increasing consumer loyalty and engagement is a business priority.
Businesses will need to adapt to an increasingly on-demand, real-time world
In both our business and private lives, we have a growing expectation for on-demand access to information and resources. It is no longer acceptable for the content we receive to be delivered in anything other than real-time. This expectation is driven by advancements in database and software applications, and the availability of super-fast networks including 4G, and soon 5G.
The 'On-Demand Economy' is growing – consumers today want their needs to be met instantly and expect businesses to be 'always on'. The expectation will only increase with emerging Artificial Intelligence, Virtual Reality and Machine Learning technology.
In the next 12 months, remote access will have a vital role to play in supporting our real-time world. By its very nature, remote access enables business to see and control geographically distributed devices in real-time. Employees and IT staff are increasingly using remote access maintain and service their critical IT estates, even on devices that do not have the software pre-installed.
As organisations feel more pressure to meet the expectations of a real-time economy, having a reliable way to deliver real-time support and management across an ever-growing range of devices and applications will be key to survival for a lot of businesses.
The author of this blog is Adam Byrne, chief operating officer of RealVNC
About the author:
Adam Byrne has a background in Mathematics and Computer Science and a career spent growing IT companies from the ground up, Adam Byrne brings both business and product development skills. He has full responsibility for overseeing day-to-day business operations, and makes valuable contributions to strategy and direction. He is building a worldwide ecosystem of technology partners and licensees in a variety of vertical markets to build value into the brand and reach full commercial potential.
Comment on this article below or via Twitter @IoTGN