The bustling growth of IoT-connected smart cities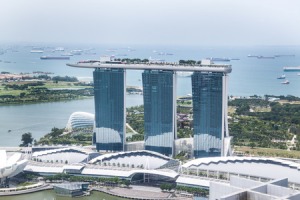 Singapore
Technology is growing beyond our palm-held smartphones. It is now sizing up to empower cities and nations to become true global powers.
In this article, Sriram Manoharan, the founder and managing director of Contus tells you how the island nation of Singapore is exploiting the power of technology to make urban living safer, easier and healthier for its citizens.
In the words of Dr. Vivian Balakrishnan, the country's minister for foreign affairs and minister-in-charge of the Smart Nation Initiative, technology will push improvements in "areas with high impact on residents and citizens," typically health, transport and housing. This article explores how Singapore is transforming its digital landscape by integrating smart systems into physical spaces and movable infrastructure.
IoT making Singapore homes 'smarter'
Singapore's Housing & Development Board (HDB) maintains more than 80% of the nation's affordable apartments. An approximate 3.2 million people live in these apartments making it a huge goldmine of data that can be collected for analysis.
As a part of the Singapore Smart Nation, the Yuhua estate neighbourhood was selected as a pilot project for smart homes, and the neighbourhood was fitted with thousands of sensors to measure domestic use of water, power and waste generation. The project was implemented with private and citizen partnership which resulted in optimal utilisation of power, water and also improved waste management.
Elderly health monitoring as a priority
Singapore is one of the Asian countries where the elderly population is drastically increasing on a daily basis. Given the emotional association to elderly that is so deeply ingrained in the culture of Singapore, family members will have to spend a larger amount of time to take care of their elders than work productively. Indirectly, this can also have an impact on the GDP of the island nation.
Hence, the Elderly Monitoring System (EMS) – a non-invasive programme is made an integral part of the Smart Nation project. Leveraging the concept of IoT-enabled patient wearables, the EMS is meant to "ensure peace of mind for those with elderly family members."
The motion sensors are devised to sense elderly activity and alert family members when there is no activity or some exigency is detected.
Drilling intelligence into urban transport
Daily commute using public transport in urban cities is a nightmare for many. But in Singapore, the Beeline mobile app is a boon for citizens. The app detects fleet movement and correlates it to commuter location to suggest new routes or seat booking to take the pain out of daily commute.
Self-driving cars and public transport buses also feature in the elaborate Smart Nation plans of Singapore. The sensor-connected public transport infrastructure will help authorities to monitor traffic movement on a real-time basis to track congestion and road damage, incidents, repair works and much more.
Smart cities: Good living ahead
Until some years ago, smart city was a relative term used to describe cities where technological investment was piling up. The coming of the Internet of Things (IoT) and such connectivity mediums have changed the meaning of the term Smart City once and for all.
Today smart cities are living, breathing and pulsating masses of data that are interconnected heavily to form a digital mesh. The interconnectivity and the data mined from the same can elevate the urban living experience of citizens by notches. Government on the other hands will also be able to monitor consumption of expensive resources thus able to balance economic growth with sustainability.
Contus IoT Solutions revolve around rendering Digital Transformations solutions that harness the power of connected devices and sensors. The company has worked alongside global brands for developing IoT applications for connected cars, patent wearables and fleet management.
The author of this blog is Sriram Manoharan, founder and MD of Contus
About the author:
Sriram Manoharan, is the founder and MD of Contus, a SMAC-based digital transformations company that delivers upscale IoT app development services, Enterprise Mobility Development, eCommerce development and several other next-gen tech services.
Comment on this article below or via Twitter @IoTGN