Swedish Alliance for IoT Entrepreneurs continues to grow, taps new markets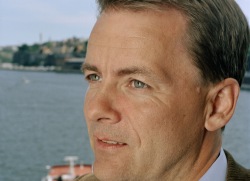 Magnus Melander, founder of SMSE
The Swedish Alliance for IoT Entrepreneurs (SMSE) welcomes Thingsquare, Endian, CombiQ, Attentec and TMPL as new members and IoT Sweden, CLX and Atea as new partners.
With 69 members and 21 partners, SMSE says it has emphasises Sweden's position as an obvious place to look for solid IoT experience and great solutions.
"IoT is rapidly becoming a key topic in all industries across all geographies," says Magnus Melander, founder of SMSE. "Nobody can go alone why ecosystems is the new how of IoT. Our Swedish eco-system of IoT companies have been working together since 2012 which gives us a unique ability to address customers challenges together," continues Melander.
WSI, Imagimob, RTE, Springworks, Possio, H&D Wireless, CyanConnode, Tinitell, Aptilo, Talkpool, THINGS and Wbird are representing SMSE in a shared stand in the Swedish Pavilion at MWC (Hall 7 E41) in Barcelona the coming week.
Other major events for SMSE this spring are Connected Business Days in Malmö, Sweden on  March 16-17, DES in Madrid, Spain from May 23-26 and in the Swedish capital at Stockholm IoT Midsummer Days from June 21-22. 
Among the messages promoted by SMSE are that Data is the gold of IoT, Eco Systems the new how of IoT, Service Enablement is key to a prospering Internet of Things industry and Specialisation is needed in the increasingly international and competitive IoT market.
Comment on this article below or via Twitter @IoTGN