Vizzia Internet of Things lab connects business, education, and technology in New Mexico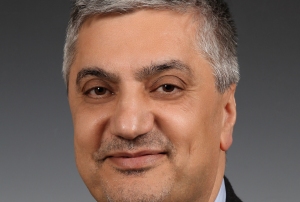 Chaouki T. Abdallah, UNM Provostand executive vice president for Academic Affairs
VIZZIA Technologies, a provider of technology solutions for healthcare organisations, has partnered with the University of New Mexico's (UNM) School of Engineering to launch the Internet of Things Laboratory (The Lab) and the beginning of Internet of Things (IoT) curriculum.
The Lab prepares students for high-tech job opportunities through real-world and handson education by testing various types of sensor systems and their performance in various applications. 
The term Internet of Things (IoT) describes the rapidly-expanding network of machines and appliances, medical and environmental monitors, vehicles, and even homes that use network connectivity to collect and exchange information.
VIZZIA sources best-in-class systems for the healthcare industry where sensor systems are used to track movements and interactions between doctors, nurses, patients and their equipment. For the Lab, VIZZIA provides testing protocols which allow students to compare sensor systems. This not only provides the students with exposure to world-class systems, but is also serving as a research and development resource for VIZZIA, and soon other companies that need to evaluate the latest sensors. 
"New sensor systems are being developed at a fast pace all around the world," explained Andrew L. Halasz, president and CEO of VIZZIA Technologies. "Having an active testing program ensures we will know the best systems to deploy for our clients while also providing a tremendous learning environment for students." 
The core of the new connected world are sensors that measure temperatures, pressures, locations, movements and a variety of other important performance data needed to automate processes and/or make better decisions.
"It is estimated that there will be 20 billion sensors in operation by 2020." said Halasz. "By creating a pipeline of well-educated IoT graduates, along with active real-world involvement from companies like Vizzia, and the additional support and incentives from local and state governments, we believe we can attract other high-tech companies to New Mexico and spawn new entrepreneurs in one of the highest-growth technology sectors for many years to come." 
The IoT project began in 2015 when VIZZIA received funding from the Venture Acceleration Fund (VAF), an award administered by the Española-based Regional Development Corporation (RDC) in the most competitive cycle to date. VIZZIA was one of 61 applications received and one of only four companies that were awarded a grant. The VAF was granted to VIZZIA to develop the concept of the IoT Laboratory. VIZZIA saw a natural partnership with UNM's School of Engineering. 
"When Andrew approached us, I immediately envisioned the vast array of opportunities that could be created, as well as the economic benefits and outcomes we'd be able to produce for our state," said Chaouki T. Abdallah, UNM Provost and executive vice president for Academic Affairs.
"The early success of the program has enabled UNM and VIZZIA to set its sights on incorporating existing software development, network architecture and Internet security coursework while also investigating newideas and curriculum in big data management to create an overall IoT program at UNM," said Joseph L. Cecchi, dean of the UNM School of Engineering. "It has given our students valuable, real-world training and experience."
Gregory Heileman, UNM associate provost for curriculum and key sponsor of the program, said that since the initial collaboration with the Department of Electrical and Computer Engineering over the past year, students have tested sensor systems brought in by VIZZIA that use various types of radio-frequency identification (RFID) technologies, ultrasound, Zigbee, Bluetooth low-energy (BLE), infrared light, and hybrid technologies. 
"Students then use VIZZIA's testing protocols to evaluate these various technologies.," said Heileman, also a professor in the department. "The IoT program works when businesses like VIZZIA provide our students with real-world experience. It makes them better prepared to enter the workforce. This is what will prepare UNM graduates to be hired and to be immediate contributors for high-tech companies considering New Mexico for their new home." 
For companies interested in joining this new ecosystem and staying on the cutting edge of the latest IoT technologies, while also helping students graduate with more skills, they can participate in a variety of ways in this new phase of expansion that opens the door for more corporate partners.
Comment on this article below or via Twitter @IoTGN