Inside the future factory for aerospace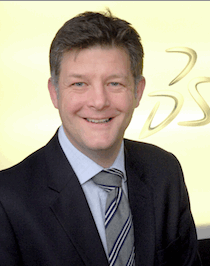 Stephen Chadwick, Dassault Systèmes
Over the next decades airline fleet modernisation and aircraft retirement will continue to feed the growth of commercial aviation, writes Stephen Chadwick, the managing director for EuroNorth at Dassault Systèmes. This drives the need for continuous improvement of new and existing production lines. These developments require a solution that delivers factories capable of driving greater efficiencies. And that capability needs to be build today.
To achieve this, aerospace and defence companies need to monitor, control and validate all aspects of manufacturing with digital precision. That ranges from replicable processes and production sequences, to the flow of deliverables throughout their supply chain. And this needs to be carried out on a global scale.
The Internet of Things (IoT) comes into the picture when plant managers can view, control and execute automated manufacturing operations in real time. This allows manufacturers to manage global material supplies, logistics execution and production operations for one site and then execute across all sites. Visibility into operations – both within a single plant and across all plants – results in better alignment with business performance targets.
The ability to enforce complete procedural control during builds also generates faster improvements and provides a sustainable lean manufacturing system.
Automated verification and procedural enforcement means work is performed only by qualified individuals, in the correct order and with the collection of all appropriate data. Sites with new or multi-lingual labor forces can acclimatise and learn faster using real-time 3D work instructions perfected in mature operations. Delivering work instructions this way decreases cycle times and delivers greater productivity.
Deploying a system that incorporates these features provides full insight into manufacturing data. That allows manufacturers to identify root causes of failure and adjust processes in real-time as conditions change. Manufacturers can also minimise the risk of installing defective components deploying a system that delivers full traceability of suppliers' 'as-built' data. This real-time traceability produces the valuable benefit of rapid quality issue containment.
Unified engineering and change management also provides suppliers and contract manufacturers visibility of engineering change orders (ECOs). By facilitating faster responses this also reduces the amount of "out of specification" materials being shipped. Combined on a unified manufacturing platform these insights translate into improved quality and productivity across the supply chain.
By graduating onto a platform that supports these beneficial features aerospace manufacturers can achieve closed loop visibility of all manufacturing, deploy leaner processes and learn from real-time KPI's.
At a time when aerospace manufacturers are looking for greater productivity and quality, this level of deployment accelerates production and increases efficiency; two factors crucial for the current and future success of the nation's aerospace industry.