Chainway successfully participated in the IOTE 2021 exhibition with the latest RFID Products
(Sponsored News):
15th IOTE 2021 International Internet of Things Exhibition was successfully held between 21-23 April 2021 at the Shanghai World Expo Exhibition Hall. Chainway showcased the latest industrial-grade smart terminals and introduced two new RFID devices URA4 and MR20. These two products also Won awards. During the exhibition, an innovative application forum was held that interact with the industry audience about the development and application trend of the future terminal devices.
This time 15th IOTE 2021 International Internet of Things Exhibition and NEPCON China Electronics Show was jointly launched, with an exhibition area of ​​50,000+ square meters and 700+ exhibiting brands. The alliances from different sectors like network applications, smart cities, 5G communications, RFID, positioning, cloud platforms, sensors, big data, artificial intelligence, etc displayed their products and services. By hosting the IOTE exhibition, Shenzhen has become the representative of terminal equipment manufacturers that exhibiting the complete intelligent terminal product series and innovative industry application solutions, which became the focus of this exhibition.
Two powerful new RFID products won awards of "2020 IOT Star"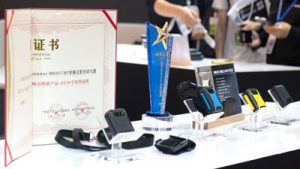 At this exhibition, Chainway exhibited the latest MR20 wearable Bluetooth reader and URA4 fixed UHF reader. These devices have a fully upgraded system configuration, easier-to-operate, and powerful functional configuration that make these devices have significant potential in market applications and can be used in many industry scenarios, attracting many visitors to stop and understand.
During the exhibition, the 18th RFID World Conference and "Star of Things" RFID Special Award Ceremony were organized. Chainway MR20 UHF wearable Bluetooth reader and URA4 fixed Android UHF reader were two new products that stand out and won the "2020 IOT Star Most Influential Innovative Product-Handheld Terminal Award" and "2020 IOT Star Most Influential Innovative Product-Fixed Reader Award". The ultra-high popularity score ranks first and widely recognized by the industry.
The whole series of intelligent terminals support various applications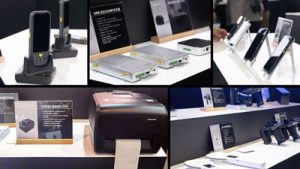 In this exhibition, Chainway showcased a whole series of popular terminal products, including C66, C61, C72, C76, C6000, and many other handheld terminal products, R2, R6, R5 UHF Bluetooth readers, multi-functional industrial tablets, UHF fixed Readers, UHF modules, etc., with diverse functions. Applications cover the entire retail supply chain, such as store management, warehousing management, logistics and distribution, product anti-counterfeiting/traceability, product anti-theft, and other fields, helping retail companies to quickly Achieve digital application upgrades, significantly improve operational efficiency and enhance market competitiveness.
Great enthusiasm in industry's cutting-edge innovation and technology achievement
RFID World Internet of Things Application Innovation Conference held in the exhibition, where General Manager Yang Haibo of Chainway delivered a keynote speech "Smart Terminals for the Consumer Market" focusing on the future trend of RFID smart terminals development and the benefits of existing cutting-edge technology in terminals. It was reported, that more than 300 enterprises, industry experts, RFID end-user representatives, and financial professionals from all links of the RFID industry chain had attended this conference.With successful cases of innovative applications in the RFID industry, Chainway is committed to promoting the market application of RFID multi-channel reader products, allowing companies in multiple fields to enjoy the convenience offered by new technology products of the Internet of Things.