The IoT Platform market is ultra-competitive and, until recently, hard to navigate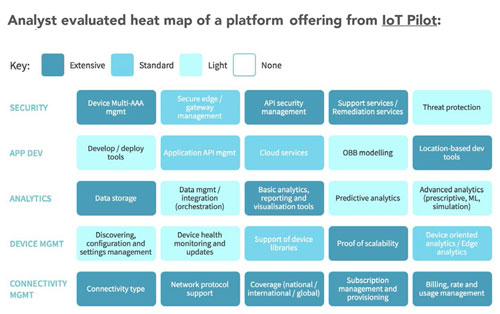 While you can do IoT without an IoT platform, it certainly aids getting an IoT solution up and running quickly and probably at lower cost than alternative approaches. Middleware is needed to enable communications between the OT (operation technology) domain where data is generated and the business IT (information technology) domain where it is used. That's the baseline function of an IoT platform. Middleware is also employed to facilitate secure monitoring, control and analysis of device and sensor behaviour in the field. IoT platforms are therefore a key enabling product. Their functionality largely determines the performance and efficiency of IoT solutions.
Given the prognosis for the growth of IoT it is hardly surprising that a plethora of platform vendors have thrown their hat into the arena. Depending on what the term 'IoT platform' covers, right now there are upwards of 500 in the market in all shapes and sizes. That means the market is ultra-competitive and it is also confusing because vendors make similar, often overhyped claims for their product. In addition, it is hard to make apples versus apples comparisons since the platforms often address different requirements. A solution that employs over a hundred thousand devices will need a platform that is communications centric. One that requires integration with existing enterprise systems required will require a robust device management capability.
Those are two of five major categories that Beecham Research employs. In addition to device management and connectivity they include security, application development and data management/analytics as well as vertical market-specific platforms, such as Smart City oriented and developer-oriented. Vendors will typically focus on their area of expertise, but platform strengths have to align with solution needs: it's a make or break issue. Therefore the requisite solution may involve a combination of different platforms covering different layers in the overall IoT stack.
Replacing confusion with clarity
Evaluating the performance of 500 platforms is clearly a difficult, time-consuming process and it becomes an even more significant issue when two or more platforms are required. Users may elect to "play safe" and go with one of the heavy hitters. However – which one? This can also result in a platform that is expensive, over-engineered and not optimised for the particular solution requirement.
Beecham Research recognised the emergence of this issue and created a comprehensive database on the various platforms as well as a matching tool known as IoT Pilot. Users enter their baseline requirements and IoT Pilot is then employed to navigate the database and give the user a list of vendors whose products match the performance criteria.
Performance parameters are analysed and presented in a structured way for all products, which facilitates comparisons. In addition, there is background information on the relevant vendors, bullet points on the key strengths and categories, together with a "heat map". This is a 5 x 5 matrix (example above) comprising performance indicators mapped against generic platform functionality. These maps allow users to see a platform's functionality and performance parameters and thereby obtain a holistic, memorable impression.
In a nutshell, the service replaces multiple product confusion with insightful clarity.