Global connected TV device installed base breaks through 1bn unit milestone, says Strategy Analytics
According to the latest quarterly research from Strategy Analytics, more than one billion connected TV devices are now in use worldwide. Connected TV devices allow users to stream over-the-top video content to the television screen and include the sub-categories of Smart TVs, Smart Blu-ray Players, Game Consoles and Digital Media Streamers.
Smart TVs have been consistently gaining share in the market and now stand at nearly 60% of the total installed base of devices. Samsung has drawn level with Sony at the top of the rankings in terms of overall Connected TV device units installed and the Korean company is poised to take the outright lead in the second half of 2018. Strategy Analytics' latest Connected TV Device report "Global Connected TV Device Vendor Share: Q2 2018" provides detailed quarterly shipment and installed base metrics for the world's top 18 Connected TV device vendors.
David Watkins, director at Strategy Analytics comments that, "The popularity of connected TV devices, in particular Smart TVs and dedicated media streaming devices such as Roku, Amazon Fire TV and Chromecast, has grown dramatically over the last few years and has led to a fundamental shift in how consumers view and engage with content on the TV set.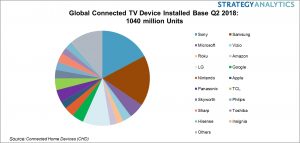 Companies such as Roku have managed to build hugely successful businesses selling dedicated streaming devices on the back of this trend towards the online consumption of video in the living room. In fact we expect more than 55 million digital media streamers to ship globally this year although this will be overshadowed the 150 million plus Smart TV market."
David Mercer, vice president at Strategy Analytics adds, "Sony has long been the global leader in Connected TV devices in terms of devices installed in homes thanks not only to its strength in Smart TV and Blu-ray but also as a result of its leading position in the global game console market. However, as Smart TVs take an ever-growing share of the overall market, Samsung will replace Sony at the top of the device footprint rankings later this year thanks to its dominant position in the world's Smart TV market."
Comment on this article below or via Twitter @IoTGN