Learning from Small Smart Cities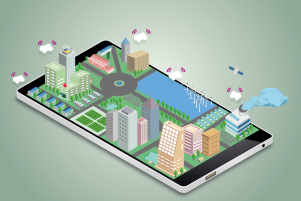 Internet of Things, Big Data, Analytics, Self-Driving Vehicles, Drones and Artificial Intelligence have become the hype terms that describe the current most interesting technological developments under way that, according to many, are yet to redefine the way we live.
This may sound an exaggeration, especially for people operating outside the technology sector. However, every one of us, in one way or another, stands to be affected by these developments and analysts like myself, among many others, are struggling to foresee what, how and by whom will happen next in the respective fields. This article is about Smart Cities, and more specifically Small Smart Cities.
Smart Cities emerge as the umbrella term that describes the implementation of projects based on the aforementioned technologies for the purpose of urban development and upgrade of civil infrastructure, towards making the lives of individuals and citizens more comfortable and more efficient, says Christina Patsioura, IoT, IIoT, Industry 4.0 research analyst, Beecham Research.
These projects are usually implemented with the initiative of the companies offering the Smart City technology stack solutions, such as (mobile and fixed) network operators, application and software development companies, that create the necessary interfaces for users involved in these projects, namely technicians that need to monitor the city's infrastructure, public authorities and the citizens, as end-users of the Smart City related services.
Most of these uniquely designed applications from vendor companies, such as smart metering for parking spots, smart lighting, smart utilities management, city-wide public Wi-Fi systems, open data tools for local businesses, etc., are implemented with the collaboration of local authorities.
So far, in the Smart Cities landscape we have experienced many impressive mega-projects, such as London, Manchester, Singapore, Australia, Ohio, Copenhagen among others.
However, we have not yet seen many smaller scale projects taking place and most importantly the role of the human factor involved in this process, as Smart Cities projects are first and foremost implemented to help advance local societies, where people immediately realise and ackowledge what improves their everyday lives.
For this purpose, Beecham Research tracked down and a number of smaller scale Smart Cities projects, primarily stemming from the southern Europe, and more specifically the countries of Spain, Italy and Greece.
Some of the many tangible benefits as described by local authorities and people directly involved with the projects include:
Better overview of local problems and incidents for the staff in charge of the city's services, more efficient decision-making for the local authorities and better support of the administration tasks,
technology culture diffuses rapidly in local educational institutions, such as schools of all grades, where students engage with practical technology-related projects, local universities and research centres, which are looking to support and get involved in the implementation of smart cities projects, while the so-called digital divide among people with higher and lower access to digital tools and digitised information sources is significantly narrowed,
faster integration of marginalised parts of the society is accomplished, through for example enablement of technology-assisted elderly care,
the phenomenon of imitation is apparent, especially for adjacent cities, that tend to want to implement similar projects or even copy the existing ones,
higher level of freedom of speech and participation through the usage of e-governance and open data tools.
As for the main takeaways that need to be taken into consideration especially for all of us that work in this very field, these are the following:
The common point of all these ventures has been the source of initiative: key people at the local authorities who had some sort of leadership position, such as mayor of the city, or head of the respective authority department, bore the necessary mentality and culture (so-called "digital culture") that would help advance such projects. Projects cannot even start if it is not for the people in key positions to support them along the way, from the conception to implementation and reservation. Smart Cities projects are first and foremost a matter of policy.
Second, the active participation of the local communities, that of the citizens is a crucial factor of success; Smart City projects in smaller places, such as rural areas, have to make sense for the everyday life of the local people, in order to be implemented. They cannot serve as a show off project, but must tackle actual issues instead.
Additionally, people are an indispensable factor for the success of a smart city project; Smart Cities are by definition implemented to solve everyday problems and make peoples' life easier, throughout the environment they live and work, thereby indicating the importance of "people first" approach that is applicable to all the related technology projects.
Fourth, every city is a sum of many small and bigger dynamical subsystems that interact. The existence of an adequate academic and/or research institution in the proximity of these places can play a vital role for its transformation to a Smart City, while the academic/research community is benefited as well. Small Smart Cities can offer a test-lab for novel solutions that enhance existing infrastructure and fit well with the various local needs.
Fifth, Small Smart City projects provide the best way to track and measure the economic impact and value delivered to people. This is all the more being raised as an issue of utmost importance that companies and customers within the Smart Agenda market area face and need to answer.
And last but not least, small smart cities projects can really set a role model that makes others want to imitate; it really shows in the most eloquent way, the fact that smart intelligent systems enable and operate in ecosystems where the human factor has a prevalent role.
The author of this blog is Christina Patsioura, IoT, IIoT, Industry 4.0 research analyst, Beecham Research
Comment on this article below or via Twitter @IoTGN